The Best Yoga Mats
Finding the best yoga mat for your practice is a very personal choice.
Mats feel different under different bodies. Plus, yoga mats are made out of different materials and colors. Some materials are eco-friendly. Others are not. Even sizes can differ, with some yoga mat manufacturers offering extra long mats.
Affiliate Links Disclosure: Naked Earth Yoga is reader-supported. When you buy through links on our site, we may earn an affiliate commission at no added cost to you. Thank you for reading. You can read the full privacy policy here.
A Few Of Our Favorite Little Yoga Things…The Best Yoga Mats
Finding a great yoga mat isn't always easy. After all, it's not like you can buy one, bring it home and test it out for a few weeks or months, and then return it if ends up not working for your body during yoga practice.
Typically, new yoga mats have a break-in period. At first, some new yoga mats are slippery.
Some new mats are actually very slippery and slick thanks to a film on the mat's surface. Eventually, a new mat will lose that initial slickness. So, if when you take a mat home from a store or receive it from an online store you find yourself slipping around on it, don't worry, that's probably temporary.
I remember many years ago, when I got my first premium Manduka PRO mat. It felt like a slip & slide! Fast forward many practices and years later, that mat still has tons of life left in it–and it's still my favorite floor mat of all time.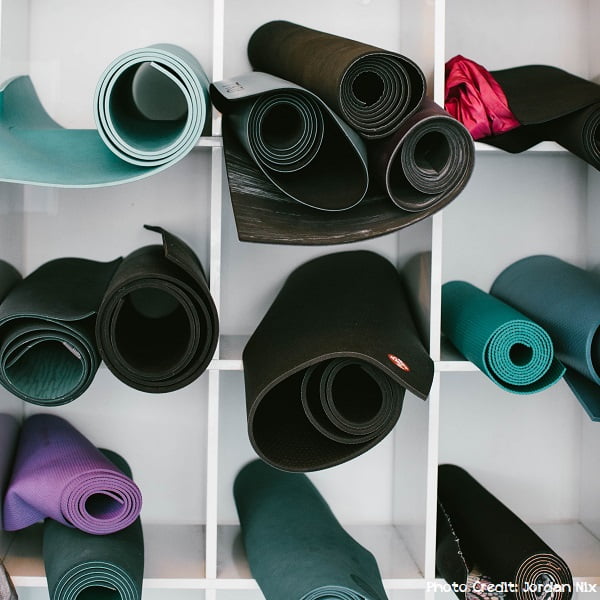 Amazing Yoga Mats
A yoga mat should feel totally AH-mazing under your body while you practice yoga. It should feel comfortable, grippy, and supportive.
Think happy mat vibes… that's really the feeling you're aiming for when it comes to finding the right mat.
It's one thing to feel like you are sloshing around on top of a mat without enough grip. And it's another thing to feel like a mat isn't even gripping the floor. It's also another thing to feel like your joints and knees are protected on a mat, and quite another to feel like your knee is compressing into the floor.
How to Choose a Yoga Mat
Some of the features to look for in a mat, which we think can make the difference between good yoga mats and not-so-good mats, include:
Yoga Mat thickness (consider your options for comfort and stability, 4mm-6mm tends to be a popular mat thickness)
Mat weight (heavier mats tend to offer more cushioning)
Textured surfaces to help maintain grip (to help you maintain your grip and posture)
Mat composition (some mats are PVC, others plastic, rubber, or out of natural materials, like Cork or Jute)
Place of Manufacturer (if you care where your mat is made, i.e. what country, be sure to find out where your yoga mat is manufactured)
Odors (some new yoga mats have strong odors or off-gas chemicals, so if you are sensitive to scents, this is a factor to consider)
Yoga mat comparison (put two mats side-by-side in a store, or two mat descriptions, and compare features)
Reviews (always read personal experience reviews or ask around — what mats do your yogi friends love?)
The Manduka PRO Yoga Mat is hands down our pick for best overall yoga mat. This highly reviewed and popular yoga mat among yoga students and teachers around the globe are testaments to this mat's strengths. It's thick (6mm). Super comfortable for high performance. It's eco-friendly, and it comes in several beautiful colors.
The Manduka EKO Yoga Mat is one of our favorite non-slip yoga mats. From the get-go or right of the box, this 6mm mat offers reliable non-slip stability. Environment-friendly as it's made from biodegradable, non-Amazon harvested, natural tree rubber with non-toxic foaming agents and non-AZO dyes. It's also made through a zero waste manufacturing process.
Gaiam Yoga Mats are perfect for anyone looking for a decent mat without spending tons of money on a mat. These 6mm mats are available in 24+ beautiful colors and designs. We recently gifted one of these mats to a brand new yoga yogi, and it was extremely well received! While these mats lack the durability of some of the premium mats, you're nevertheless sure to get lots of life out of a Gaiam mat.
This Jade Yoga mat is made out of natural rubber. It's slightly thinner than some of the major brand premium yoga mats, but don't let that fool you. The popularity of this yoga brand mat is off the charts. The Jade Harmony, which is a little over 4mm thick, is the most popular mat made by this brand. Some yogis give this mat thumbs up for hot yoga because of its rubber grip factor. Available in several colors, including pink and orange.
Share the Love – Pin or Tweet This
If this post has helped you find your perfect yoga mat, please share the love. Pin this. Tweet this. Share it. We really appreciate it! 😉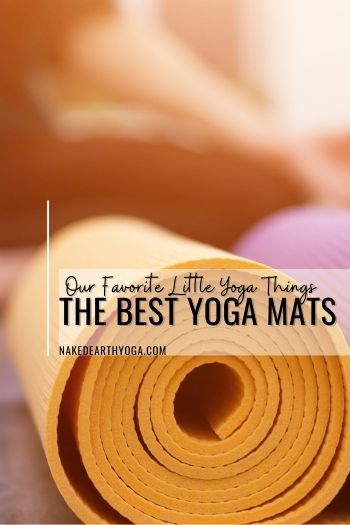 Share your perspective below. What's the best yoga mat? What brand of yoga mat do you practice yoga on?
Related Posts You May LOVE