Want to create a beautiful home yoga meditation altar? A sacred space for your daily yoga practice? A special place dedicated to your spiritual growth or to manifest your dreams?
If you dream about transforming a space in your house into a sacred, divine space for your yogic lifestyle, then stay a while. You'll find inspiration, tips, and ideas for creating a beautiful yoga meditation altar to help you deepen your practice.
Why Create a Meditation Altar
A meditation altar is a beautiful and very real reminder of why you are on your yogic or spiritual path. Creating an altar in your home can help you stay focused on your intentions, goals, personal path or journey, and dreams. Special or meaningful objects on your altar can also serve you and your intentions.
For some, an altar is a sacred space. A divine place or space for reflection, personal growth, or healing. For others, an altar is a home shrine. And still for some, an altar is a display table of sorts that features personally meaningful and symbolic representations which contribute to self-awareness, mindfulness, and positive energy flow.
How Much Space Do You Need for Your Sacred Altar Space
An altar can be as small or large as you wish or have room for in your room.
So, even if you have a tiny apartment in Paris or New York City, you can find a way to create an altar space. Creating a home altar doesn't have to take up a lot of space.
Where Do You Put the Altar in your House or Apartment?
Your yoga altar can made on a tiny corner shelf, a table, a cozy nook, a space on the floor–even on a tiny plate or dish. I once chose the top shelf of a small bookshelf in a tight corner of my house for the place for my altar.
The foundation for my altar was a simple and small handmade, heart-shaped dish that a special friend had given me. It was on that little dish that I put important treasures that reminded me of my personal and spiritual journey.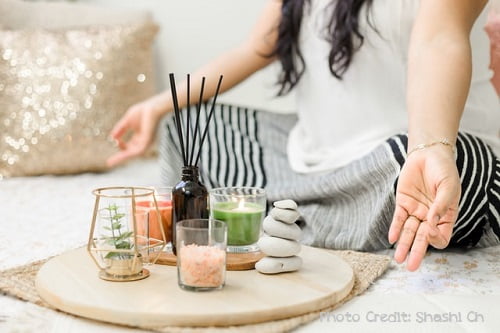 How to Create an Altar for Meditation
To create your altar, first select a place in your home that feels right for it. The space should be clean and tidy, and generally lend itself to well-being and spiritual growth. For example, if you have a favorite room or space in your house, that might be the ideal location for your altar.
You'll then want to decide on an altar foundation–the place upon which you will place your meaningful objects, representations, photos, statues, or other inspiring keepsakes. The foundation could be made up of anything really, even the floor. It could be simple like a rustic table, small bench, wooden board, or it could be an intricately crafted altar piece.
How to Build an Altar
If you are the DIY type, you might love actually building your own altar table. You can find some ideas on my Meditation Altar Pinterest Board
Tips for Decorating Your Altar
Once you've selected a space in your home for your meditation altar and your altar foundation, it's time to decorate your altar. Your altar is yours. So add anything meaningful or inspirational to you to the altar.
For some, this might be photos of yoga teachers or yoga gurus. For others, it may be flowers, rocks, figurines, candles, incense, or singing bowls.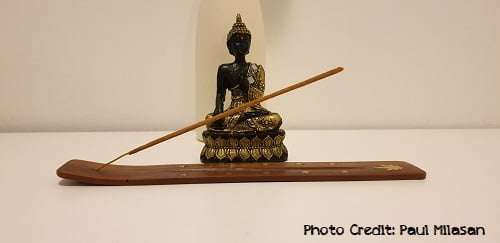 You might choose to change up your altar when the mood strikes you. For example, when you need new inspiration or wish to set new intentions. When you hope to manifest new dreams. Or with the changing of seasons, special occasions, or life events. In autumn, a personally meaningful season, I like to collect colorful, fallen leaves and place them on my altar.
Additional Decoration Ideas for Your Home Meditation Altar
If you're in need of visual inspiration for building an altar at home, you can find home shrine ideas on Pinterest, including ideas for creating a spiritual altar at home.
Other Ideas and Meaningful Elements for Your Altar
Some of my favorite elements to create a meaningful altar include:
1. Altar Table
There are so many creative ideas for building or creating DIY altar tables. However, you can also find lovely, pre-made and handmade altar tables, including some with carvings, like this tree of life altar table.
2. Fresh flowers or elements from nature
Enhance your sacred space with fresh flowers, leaves, rocks, stones, pinecones, fallen tree bark, feathers, or other trinkets or elements from nature.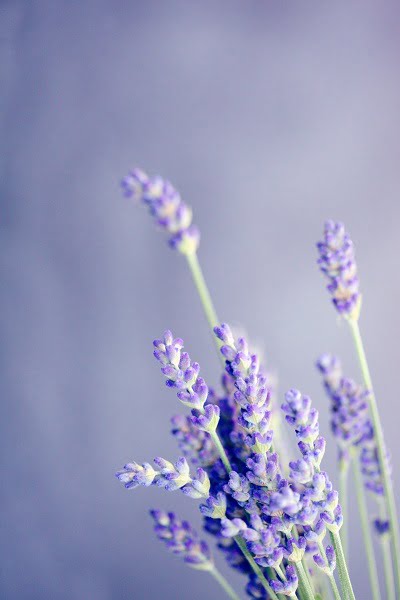 3. Silk Altar Scarves or Coverings
Add beauty to your altar with a silk scarf, table covering, or other natural cloth cover.
4. Yoga Statues or Figurines
Yoga statues or figurines can not only add beauty to your home altar, but they can add meaning and connection to your meditation or yoga practice.
5. Integrate Scents & Inspiring Fragrances
Beyond the visual aesthetics of a home altar, consider adding your favorite scents, like relaxing lavender such as a candle, essential oils, or incense that reminds you of your favorite yoga studio — such as Patchouli.
Share the Love – Pin this Post
If this post has inspired you to create or build a home altar for your practice, please consider sharing the love. Pin this. Tweet it. Or share it with your friends. We really appreciate it. 😉
Related Posts You May LOVE: