Seriously, it's true. This is the best paleo salad dressing you'll ever try.
If you're a fan of curry, you're going to love this paleo, dairy-free, homemade salad dressing recipe. And if you're looking for a game changer, this is the recipe you need!
I know there are thousands of salad dressing recipes out there, but this one is different. Really.
To be honest, I make this salad dressing, almost everyday! It's that good! How can you not love curry with a touch of real maple syrup on a salad? It is truly is a mouth watering experience!
About this Paleo, Dairy-Free Recipe
This creamy paleo maple curry salad dressing is a paleo diet salad dressing! It's also fantastic as a sauce, such as over a buddha bowl. Guilt free and amazing. You only need a few ingredients to make it. And it's very quick to make. This recipe is perfect for a quick on the go salad or great for a dinner party. I try to keep the ingredients in my cupboard, so I can make this dressing anytime or in a pinch.
You can't mess this dressing up! You can easily tweak it to your taste buds. For example, it can have more of a curry kick or less, depending on how much curry powder you put in (look at "tips & pointers" section). It can also be made sweeter by upping the maple syrup.
Keep in mind, the thickness and color of dressing can vary. It could be almost completely white to bright yellow, or really thick or thin, depending on your preference and amount of coconut milk used. But don't worry too much on the color or thickness. Just enjoy the taste of this incredible paleo dressing!
Tips & Pointers
Okay, so if you're a big fan of spice, you're going to want to change the spices up a little bit. Add a little bit more garlic, ground ginger, and curry powder to get a full kick.
If you love sweet salad dressing, add more maple syrup. Of course, it you prefer your dressing less sweet, use less maple syrup. Whatever you do, use 100% real and pure maple syrup.
Also, add more or less coconut milk depending on whether you prefer thick or thin salad dressing. If you want this to be more sauce-like, reduce that amount of coconut-milk.
Salad dressings are so great for getting creative, so have fun in the kitchen with this dressing, and make it your own! There is nothing like homemade salad dressing!
Creamy Paleo Maple Cashew Salad Dressing
Course: Lunch
Cuisine: Salad Dressing
Ingredients
1/4 cup of cashew butter

1/2 cup of coconut milk

1 tablespoon of real maple syrup

1 teaspoon of curry powder

1/2 teaspoon of garlic powder

1/2 teaspoon of ground ginger powder

A dash of salt and pepper
Directions
In a mason jar or cup, mix together all the ingredients.
Enjoy!
Notes
I prefer to use a mason jar when I make this recipe. That way, I can add all of the ingredients at once, put a top on the jar, and then shake the jar well until all of the ingredients are well mixed. You can also mix with an immersion or electric blender if you prefer a fine and smooth texture.
If you enjoyed making this creamy paleo maple curry salad dressing, then be sure to check out our other delicious paleo recipes, including other paleo salad dressing recipes.
Happy cooking! Happy eating well.
love, julie & naia
If you loved this recipe, please consider sharing it! Pin it. Tweet it. Share it!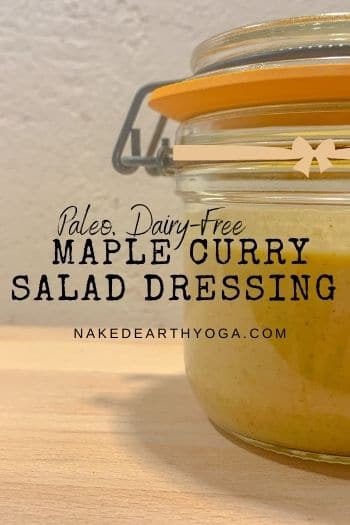 And drop a comment below. We'd love to hear how your homemade paleo dressing turned out. Do you love it?
Related Posts You May LOVE