Get your Yoga Juice and Zen on with these 10 easy fresh juice recipes. You're going to totally fall in love with these fresh juice recipes!
But if you're new to juicing, get ready to discover the health benefits of juicing. Juicing is easy! And so healthy.
The Benefits of Making Your Own Fresh Juice
Fresh ingredients
Increase dietary consumption of fruits and vegetables (including antioxidants, vitamins, and minerals)
Know exactly what's in your juice (for example, whether there's any secretly added sugar or sweeteners)
Create exactly the blends you want
Savings – often less expensive to make your own juice than to purchase bottles or visit a juice bar
Pre or post workout juice can help with hydration, as a fuel source, and rehydration
My Juice Story
A number of years ago, I watched the American Documentary Fat, Sick, and Nearly Dead. If you haven't heard of the film, it's a true story of an Australian, Joe Cross, who decides to follow a juice diet while exploring the US and advocating the health benefits of juicing, such as reduction of autoimmune disease.
After watching the documentary, I ordered my first juicer. A Breville. To this day, I love it. It remains a powerhouse. I also own a smaller, much less expensive juicer, which gets the job done, but it lacks the drive of the Breville.
Once the juicer arrived, I did my first juice cleanse. Basically, I lived off fresh homemade juices for a weekend as a gut detox. I felt so good at the end of the cleanse, that I repeated similar cleanses for some time.
At one point, I did a 10 day juice fast. That was an unbelievable experience. I felt the best ever in my life. My naturally dark under eye circles completely vanished. My eyes were bright white. I slept so well (which is no small miracle for me). My body didn't ache anywhere. I felt so alive and healthy. While I enjoyed my longer juicing experiments, I much prefer daily or regular juicing to extended juice fasts or cleanses.
Yoga Juice
I do think juicing, or yoga juice, as I like to call it, offers numerous benefits to the body and wellness. Juicing is also complimentary to living healthy lifestyles. Think the perfect excuse to indulge at farmer's markets or to plant a garden.
And importantly, I think juicing is fun. It's a great creative expression or outlet in the kitchen. If you have children, especially picky eaters, making fresh juices can be a good way to get fruits and vegetables, which they might otherwise refuse, into their growing bodies.
Daily Juicing vs. Juice Fasts or Cleanses
I'm big fan of juicing. For me juice cleanses or juice fasts have had value. However, they may not be right for everyone. And, it's always a good idea to consult with a doctor before you make any big changes to your diet or routine, such as a cleanse or fast.
Juicing, however, as a daily practice or occasional way to infuse fruits and vegetables into the body, is an eating plan or habit that I think offers health benefits. One understated benefit of juicing is that it simplifies meal or snack planning.
As you will see, the following easy juice recipes are quick to throw together. Grab the veggies or fruits, throw them into your juice, and off you go to work, school, or yoga class.
Juicing is the perfect way to kick off a brand new morning. Or restart the day with fresh energy, mid-way through.
Buying a Juicer
When it comes to buying a juicer, there are some features you should look for your juice machine. Based on my juicing experience, these are some features to look for in a juicer.
Simplicity of Use
Go for a juicer that is easy to use. How will you know? Read customer reviews. Ask your yoga buddies or Instagram followers. Get recommendations. Trust me, if a juicer is complicated, you probably won't use it as often as you would like.
Ease to Clean
Whatever juicer you buy, make sure you read the customer reviews well to confirm that it's easy to clean. Making juice is quick. Cleaning up after juicing, however, takes time. The easier your juicer is to clean, the more likely you are to use it often for making fresh juices. Look for a juicer with external pulp ejection, which allows for efficient juicing and easier clean up.
Quality Construction
No exaggeration here, quality counts in a juicer. And as with many things in life, you often get what you pay for, and a juicer is no exception. I have a quality Breville machine. It is rugged. It has lasted for years and still looks and runs like new. I also have a cheap Breville knock-off. It cost a fraction of the price of my Breville, looks similar although is smaller, but it doesn't come close in comparison to quality.
Speeds
Compare juicer speeds. Juicers with certain speed features can allow for better processing of your juice, which means they will extract more nutrients. This is a good thing thing for your health.
Get Juiced. 10 Easy Juice Recipes for Your Yoga Practice & Healthy Lifestyle
Here are 10 easy, fresh juice recipes to complement your yoga lifestyle and healthy living.
1. Beet, Carrot, and Ginger Wellness Juice
This fresh juice recipe from Just Beet It is packed with health boosting properties. Beets are so amazing for you, as they are known to boost immunity, detoxify, and improve heart heart.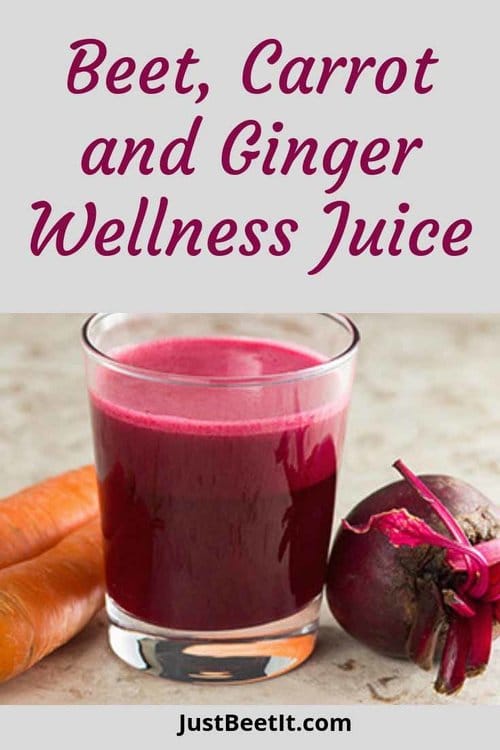 2. Blood Orange Lemonade
Lemonade, anyone? Try this easy, fresh juice recipe from Milk Pop. You don't need a fancy, high end juicer to make this juice recipe. When blood oranges are in season, scoop them up and make this fresh juice for a post-yoga practice or afternoon treat.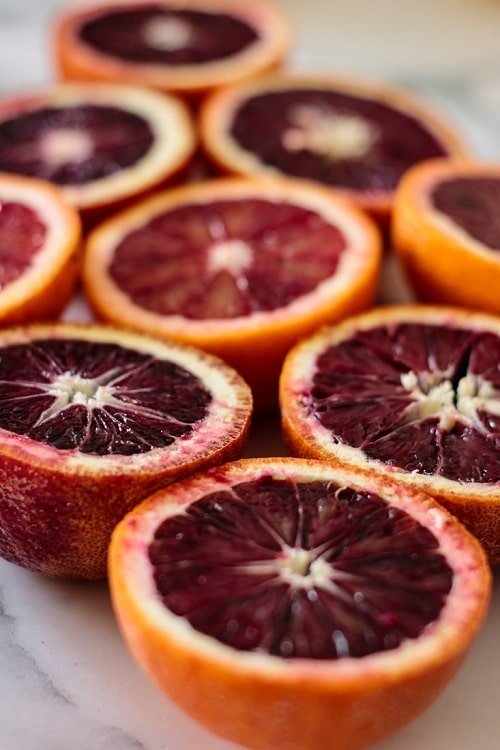 3. Pineapple Foamy
Made with pineapple, green apples, oranges, and ginger, this fresh juice recipe from the blog Darling Hill is sure to please those new to the fresh juice world, especially picky eaters. Talk about yoga juice!
4. Sweet Potato Strawberry Juice
This sweet potato strawberry juice recipe from Eating Richly includes green apple to give it the perfect balance. Definitely a recipe worth trying!
5. Apple Cucumber Juice
This light, fresh juice recipe also from Eating Richly is perfect for summer patio sipping.
6. Simple, Refreshing Pineapple Juice
Fresh pineapple juice is AHHHH-Mazing! Curry Trails recipe shows you how simple it is to make this refreshing juice. Personally, I love juice with a pineapple base–it's so easy to customize and doctor up juices to your own liking.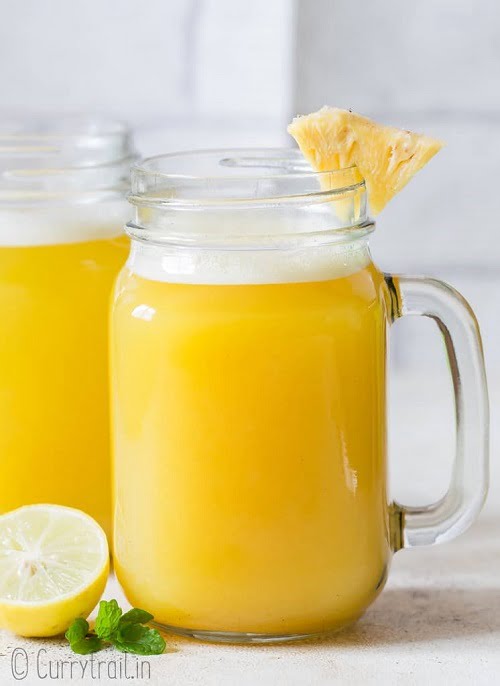 7. Blueberry Juice
When blueberries are on sale or ready to pick, put this antioxidant packed blueberry juice from Dassana's Veg Recipes on your list. An ordinary blender will do the trick with this recipe.
8. Fresh Carrot & Broccoli Juice
This nutritious juice recipe by Everything Juicing & Smoothies creates a lovely layered fresh juice from a base of carrot and broccoli. The best part? It also calls for orange to add a little fresh sun sweetness.
9. Strawberry Agua Fresca
When the garden or grocery store overflows with seasonal berries, you'll want to try Simply Stacie's refreshing Strawberry Agua Fresca.
10. Mood-Boosting Beet and Orange Juice
A perfect juice recipe for lifting your spirits! This recipe from Just Beet It can boost your energy levels and may even help you feel less down or stressed out.
Share the Love – Share or Pin This
If you like this juice recipes list or want to save these ideas for later, be sure to bookmark this post. Or pin it!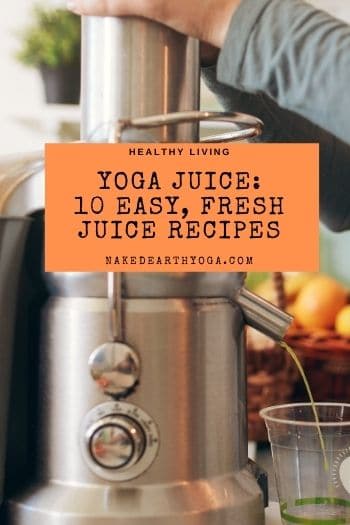 Join the Yoga Community. Click the button below to join the mailing list.
Related Posts You May LOVE