Yogapreneur defined?
What is the definition of a yogapreneur?
Let's find out.
Affiliate Links Disclosure: Naked Earth Yoga is reader-supported. When you buy through links on our site, we may earn an affiliate commission at no added cost to you. Thank you for reading. You can read the full privacy policy here.
Are you a yogapreneur?
This caption in the image below defines yogapreneur.
As you will see, I created this mock-dictionary definition for anyone who loves the business of yoga. And for anyone with a yoga dream. For example, it's for yoga teachers, yoga entrepreneurs, yogipreneurs, and start-up business owners.
Yogapreneur Defined
If you're dying to know what this yoga biz word means, here you go: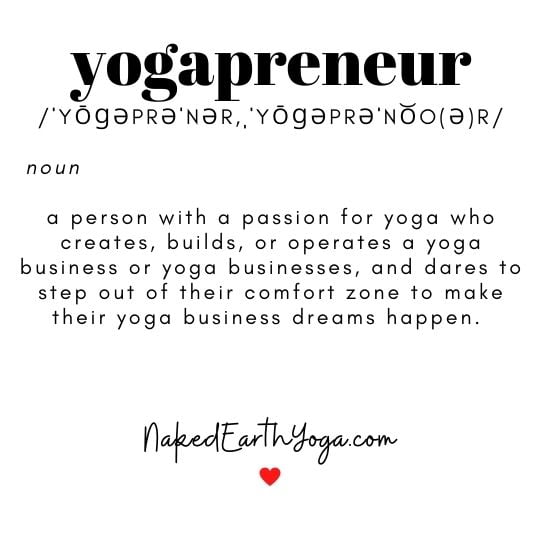 What is a Yogapreneur?
"Yogapreneur: A person with a passion for yoga who creates, builds, or operates a yoga business or yoga businesses, and dares to step out of their comfort zone to make their yoga business dreams happen." – Naked Earth Yoga
Yogapreneurs can come in different forms.
They might look like:
yoga teachers
new yoga studio owners
yoga coaches
yoga studio consultant
new yoga instructors
yoga marketing experts
yoga business coach
retreat planner
Yogapreneurs vs. Yogipreneurs
Sometimes, you may see the word "yogipreneur" used interchangeably with yogapreneur. In my view, the idea is the same.
However, one of my social media followers notes an issue with using the word yogipreneur. Says she prefers not to use the word 'yogipreneur' because "yogi" implies a male. Instead, she uses the word 'yoginipreneur.'
READ MORE: How Yoga Teachers Can Deal with Imposter Syndrome.
Share Your Thoughts: What do you call yourself as a new yoga business owner? What do you think of this word to describe yoga entrepreneurs?