First, let me say welcome. It's a big freakin' deal that you've landed here on my website looking for Yoga for Men. Well, maybe it's less of a big deal if you landed here because you Googled "naked yoga"–yeahhhh, that's a completely different discussion…
Back to my point. It takes a lot of courage to show up to a yoga class, want to dive into yoga practice, or generally want to learn more about yoga, especially if you're a guy.
At least it is a big deal from my view as a woman and a yoga teacher.
That's because I know yoga can be intimidating for men for a number of reasons. Plus, walking into a yoga class filled with fit, flexible, bendy women… yep, I know that's not easy for you, either (even if your guy friends have teased you about it and think going to a yoga class for the first time has got to be a piece of cake).
It's my hope that this little primer has you build your knowledge, confidence, and curiosity about yoga and helps encourage you to get started practicing yoga today.
Yoga is a game changer for everyBody. I think it's a mega game changer for men. Try it out. With consistent yoga practice, you'll understand what I mean. And you'll discover that once you start practicing yoga, life starts to look a little bit different–better.
Affiliate Links Disclosure: Naked Earth Yoga is reader-supported. When you buy through links on our site, we may earn an affiliate commission at no added cost to you. Thank you for reading. You can read the full privacy policy here.
Beginner's Guide to Yoga for Men 101
Trying yoga for the first time is like trying something brand new. Sometimes newbies to yoga think, "well, how hard can it be? it's just stretching." They then leave a yoga class slightly surprised. Turns out yoga is a little more than just stretching or doing pre-workout, look-good-in-the-mirror shake out moves.
Why Men Should Try Yoga
Here are some of the reasons why you should try yoga. Remember, these are just *some* of the reasons.
* Yoga is good for you
* Improve flexibility, strength, balance, coordination
*Better sleep
* Better sex
* Lower your stress level
*Better, more patient communication
* Improved self-awareness + self-control
* Improved mental clarity
*Better physical + mental health
Best Books to Learn More About Yoga
If you want to learn more about yoga from the privacy of your own home, definitely get your hands on these awesome yoga books that will help you gain knowledge, confidence, and courage to step into any yoga class or log into any online class. Best Yoga for Men Books.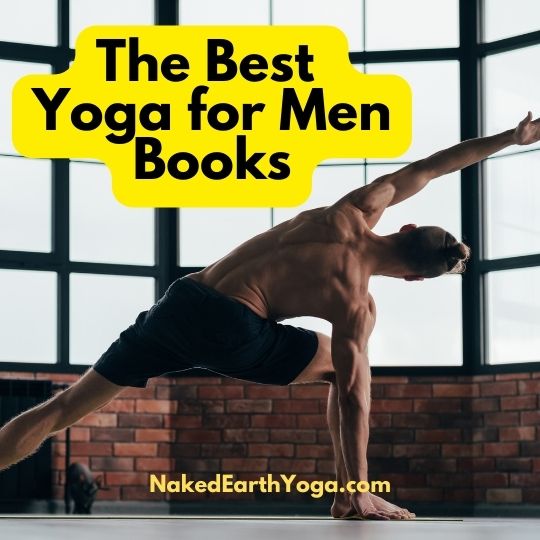 What to Wear to Your First Yoga Class
To reduce some of the stress of walking into your first yoga class, knowing what to wear can help. Most men wear comfortable, non-restrictive clothing to yoga classes.
Depending on the yoga style and intensity of practice, you might opt for shorts, yoga pants, joggers, a t-shirt, or a tank top. I've compiled a list of some of my favorite yoga for men's workout clothing in my Amazon shop: My Favorite Yoga for Men Wear.
If you're into minimalist, organic wear or looking for a funky gift, be sure to check out my fabulous t-shirt collection inspired by my how-to-use affirmations book, 108 F*cking Affirmations: F-Words to Get You Closer to Living Your Truth
READ MORE: Dos + Don'ts: What Men Should Wear to Yoga
Do I Need a Yoga Mat?
If you're practicing yoga for the first time at a yoga studio, you may need to bring your own yoga mat. Chances are good, however, that the yoga studio you visit will either have extra mats to borrow or mats to rent.
While you technically don't have to have a yoga mat to practice yoga at home–you can always use a carpet, throw rug, the bare floor, or even a towel instead–a yoga mat makes practicing a bit safer and less slippery. The last thing you want to do is get injured practicing yoga.
To help you simplify your yoga mat shopping adventure, I've written this little yoga mat shopping guide to help you know what to look for in a yoga mat (as well as some of my mat suggestions). You can also find my absolute two favorite yoga mats in my Amazon shop.