Are you ready to grow your yoga student audience and find the best platforms for teaching yoga online?
Of course, you want to grow your yoga student base and yoga business, right? Yoga is not only an amazing practice for health, mental well-being, relationships, and happiness, but it's HUGE right now. The business of yoga is a big business. And it's not going away anytime soon.
So, grab a cup of tea and stay here a while! Let's dive into how to grow your yoga business online by using the best platforms online for teaching yoga.
I'm going to give you the scoop on the 10 Best Platforms for Teaching Yoga Online. These platforms can help you grow your yoga business and find smashing success as a yoga teacher.
Affiliate Links Disclosure: Naked Earth Yoga is reader-supported. When you buy through links on our site, we may earn an affiliate commission at no added cost to you. Thank you for reading. You can read the full privacy policy here.
Why Teach Yoga Online?
Teaching yoga online is a great way to grow your yoga business, expand your global reach, and scale your business. Here are some of the reasons more yoga instructors everyday seek to grow their online yoga teaching business:
Unlimited Potential & Reach. Thanks to the Internet and technology, like awesome and easy teaching platforms, no longer must you limit your yoga practice and teaching to a local studio. Now you can reach students all over the globe, including reaching people who want to practice yoga from the comfort of their homes. Plus, the sky is the limit when it comes to your online earning potential.
Flexibility. Teach whenever you feel like it! Teach more when you want to boost your income or grow your business. Record classes at any time of day or night. Offer live classes when your schedule permits. Teach wherever you feel like teaching or wherever you would like to offer that beautiful backdrop yoga aesthetic…like from your home living room, a yoga studio, a beautiful Airbnb, a rooftop terrace, on the beach, you name it! Online teaching gives you complete flexibility to create a yoga business on your own terms.
Be Your Own Boss – Teach Your Way. Online teaching allows you to create your own yoga classes, themes, workshops, and niche yoga courses. No need to get yoga studio or boss approval or permission. You're the boss and your creativity is the limit.
Earning Potential. The ability to grow your business online means unlimited earning potential. Grow your business, grow your yoga brand, build your social media audience, and make more money than you could make with a limited, local-based yoga business.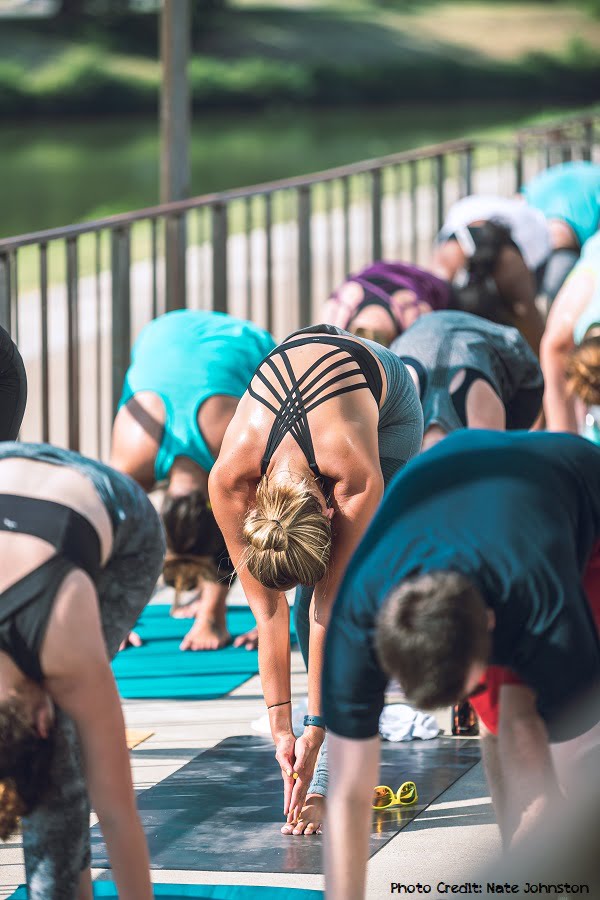 The Best Places Online to Teach Yoga: Audio, Pre-Recording Video, or Livestream
If you're looking to grow your yoga business by delivering content to your yoga students online, there is no better time to grow than right now. There are so many options for creating yoga content and getting it in front of your students, prospective students, and social media followers.
Perhaps even more exciting, you can create content from practically anywhere, from your home, a studio, a park, the beach, anywhere. And you don't need high tech equipment. Some yoga instructors simply use an iPhone! After you create inspiring yoga content, you can then deliver your content to your students in formats that you prefer or in formats that you think will most appeal to your students.
You can offer live yoga videos or live yoga classes online. You can also teach yoga online by offering pre-recorded content, which you can edit and polish before hitting the publish button.
If you're ready to take your yoga business online, begin by finding the best platform to host online yoga classes. This list that follows is intended to help you out. After all, making the decision to ratchet up your online yoga presence necessarily requires commitment and time. There's a lot to consider and do!
Accordingly, this list features some of the best online yoga sites that you can use to host your online classes. Whether you want to offer audio only classes (so your students can focus on listening to your voice and cues, rather than getting distracted by visuals), livestream video, or recorded video, you'll likely find one or more of these platforms to have great features to position you for growth.
These platforms will allow you to connect with the online yoga community, build your online (and offline) presence, and create new income streams.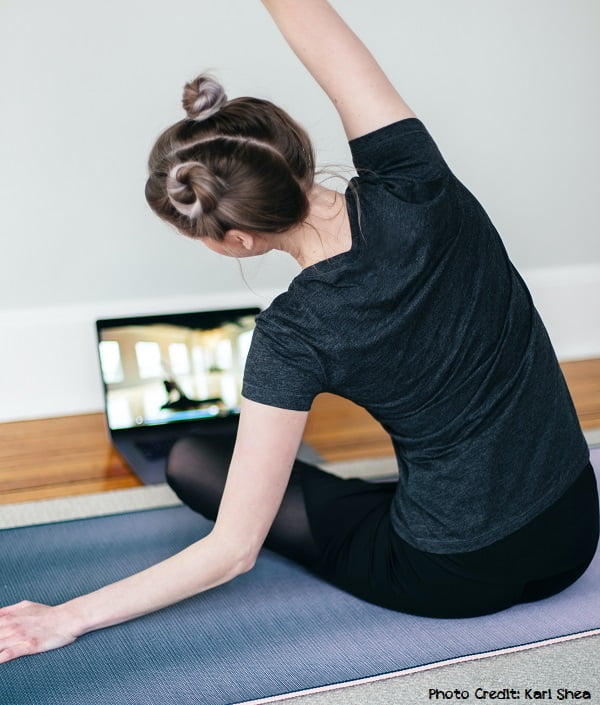 Where You Can Host Your Yoga Classes Online
1. Zoom
Zoom is now pretty much a household name, thanks to the Pandemic.
Pros: Free or paid versions. The free Zoom Videoconference version allows you to host a live meeting for up to 40 minutes with 100 participants. It also allows unlimited one-on-one meetings. It's pretty easy to set up Zoom, even for someone who doesn't have an existing account.
2. Stream Your Content Using Social Media Networks – Facebook Live, Instagram Live, or Tiktok
Stream your yoga class content using live features on social media, such as Facebook Live, or Instagram live. Some yoga instructors also use Tiktok.
Pros: it's free to live stream using these social media live streaming options. If you already have a solid follower base, you can hit the ground running! Otherwise, you'll have to set up your accounts and profiles, and put in effort growing your follower and friends base.
3. YouTube
YouTube is the largest site for content creators and aspiring content creators, like you! If you already have a YouTube channel and subscribers, you're in luck. You can upload a video right away, publish it, and immediately have eyes on your video.
Pros: YouTube allows you to monetize your livestreams and videos. You do need a chunk of subscribers before you earn money, but if you're willing to be persistent and work at building your YouTube presence, you can get there!
4. Crowdcast (now with Patreon Integration option)
With Crowdcast, you can quickly set up your online yoga class. One URL link will allow your students to access everything they need to get into your class.
Pros: Cool integrated features, like polls, Q&A, and chat, so you can interact with your students. Built-in integrations. Integrate with Patreon, if you are using it for your business, or with mailing lists like Mailchimp.
5. Audible Yoga
Audible Yoga is a teaching platform that allows students to listen to your yoga class audio recordings. When you sign up to teach at Audible Yoga, you'll have to first create a demo class that is published as a free yoga class. Later when you produce more content, you earn 30% of all payments made by your students.
Pros: Audible Yoga allows you to earn royalties of 30% on your courses. You don't pay anything to list courses and there are no teacher fees. A key plus, you can live and teach anywhere. You aren't under any pressure to add new classes or to market or promote your courses.
6. Google Meet
Google Meet is another online platform and Zoom alternative that allows you to host online yoga classes.
Pros: No need to install software. Mobile application. Good online platform if you are offering paid classes. Quality audio and video and security are pluses. If you already have Google Suite for your business, this may be an appealing platform.
7. Teachable
Create your own virtual yoga school with Teachable. You can offer courses and trainings, including basic quizzes, as well as market your classes online. You can create a basic course online for as low as $29/billed annually.
Pros: Easy to use. With your teachable plan, you get unlimited videos and hosting. And for efficient management, there's integrated payment processing.
8. Udemy
This major teaching platform allows you to offer recorded course content for your students.
Pros: Make money while you sleep! Your courses will get in front of Udemy's audience, as it has a reputation as a leader in offering online classes.
9. Namastream
If you're looking to create your own platform set-up and don't mind a little extra administrative work, Namastream may be your perfect yoga class platform.
Pros: Lots of features that will allow you to create a virtual yoga studio, and build your online presence without sacrificing income, such as big cuts taking off the top of your classes as some platforms do).
10. Outschool
If teaching children, including teens, yoga is your area, Outschool is a great platform that uses Zoom technology to deliver online educational content, classes, clubs, camps, and workshops to young learners.
Pros: Demand for diverse classes for students, including yoga classes, fitness, and health-oriented classes. Flexibility. Teach on your schedule.
Share the Love – Pin This Post
If this article is helpful to you, please consider sharing the love! Tweet it. Pin it. Share it. Bookmark it. Thank you so much. 🙂
Are you currently teaching online? What platform are you using? Do you have a favorite way to teach yoga online? Audio? Video? Livestream? YouTube? I'd love to hear from you. Leave a comment below.
Related Posts You May LOVE