Want to know the number one secret to a successful yoga business? Of course, right?
It's far too easy to look at successful yoga teachers or successful yoga businesses and wonder how they got where they did. Did they just get lucky? Did they have unlimited start-up resources?
Sometimes it looks impossible to accomplish what others have already done. And, sometimes it seems overwhelming in trying to figure out where to start.
But hold on. If you're looking to launch or grow a yoga business, I'm going to let you in on the number one secret to a successful yoga business.
Affiliate Links Disclosure: Naked Earth Yoga is reader-supported. When you buy through links on our site, we may earn an affiliate commission at no added cost to you. Thank you for reading. You can read the full privacy policy here.
The Number One Thing You MUST Do If You Want a Successful Yoga Biz
If you want a successful yoga business, there is absolutely one thing you must do if you want to get results.
But first, I recently published a free find your yoga niche business guide, and developing a niche is a must too. So, definitely grab a copy of that guide if you're struggling to find your yoga business area.
But before going forward, be sure to download The Yoga Niche Guide with 50+ Ideas for You.
What you must do might seem like a huge secret. Well, it sort of is a secret, actually. That's because people, including yoga instructors, often look for short cuts to success. The obvious can seem a little TOO obvious.
The Good News About Starting or Growing a Yoga Business
The good news is that YOU can do this! You can start and grow a yoga business into a successful venture beyond your wildest dreams. YOU can discover the path forward to success.
Sounds reassuring and simple, right?
But how? How do you get from where you are right now as you read this blog post to that place you imagine? Maybe that's where you are a high earning yoga teacher, have a large client base, a successful yoga studio, or total work-life freedom, which allows you to work or live anywhere.
Well to get to that place, you need to know and understand The Secret to a Successful Yoga Business.
Are you ready for it?
The Secret You've Been Waiting For…
You're going to need energy, time, and some resources to launch, grow, or expand your yoga business, of course. And you're going to want cool money making ideas, too. Think innovation!
If you're serious about making money with your yoga business right NOW, next year or in the future, you have to read 7+ Ways to Make Money as a Yoga Teacher. So, go bookmark that page now! Or read it, and then come right back here to this spot.
But definitely come back after you've bookmarked or read that money making feature because what follows here is essential for skyrocketing your yoga business growth.
However, there's something else you need to create a wildly successful yoga biz.
One more thing.
It's the secret sauce to running a yoga business. It's the ticket to creating a sustainable business that allows you to live your ideal lifestyle.
Drumroll, please…
The ultimate, best kept secret to making money as a yoga teacher or with your yoga business boils down to marketing.
Business marketing. Marketing and promoting your brand. And, for many yoga teachers, YOU are your brand.
Sounds easy peasy, right?
Well, stay put for a bit longer because there's more to it.
Let me explain.
Consistency in Marketing is Essential
The ultimate secret to a successful yoga is marketing consistency. You absolutely must market your business. And you have to be strategic about it.
You can't just pop up one Instagram post or tack up a poster on a bulletin board at a local coffee shop and be done with it.
Marketing is a consistent, non-stop, ever-evolving process
Yoga business success requires consistency in your marketing efforts. Again and again. It's a non-stop, ever-evolving process.
To illustrate, think about some of the corporate giants, which you might imagine have "successful" reputations, such as Whole Foods, Adidas, PrAna, or Amazon. These giants didn't get where they are now simply by advertising or marketing their businesses once.
They didn't stop promoting their brand when they made their first million. Nah, not by a long shot. Nor do they just put one banner add up on their business blog or hit publish on one tweet announcing a new product.
And, they didn't decide to promote their business only when they felt like it or were motivated to do so. They consistently prioritized business marketing.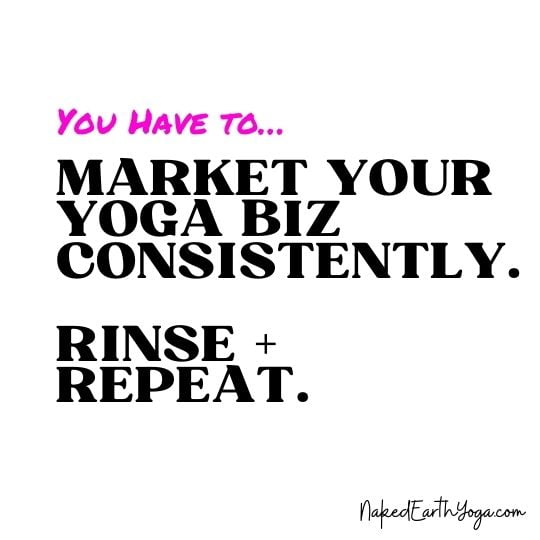 What is Consistent Marketing?
Well, consistency is one of those things that really depends on how you define consistency.
For example, my yoga teacher once told me that someone who practices yoga once a year on January 1st has a consistent yoga practice. Anyone who has practiced yoga knows that while practicing one time a year might be consistent, it probably doesn't mean that you're totally flexible or getting all of the benefits of MORE frequent yoga practice.
The same applies to marketing your yoga business. You have to market your business consistently AND often. Marketing isn't a one-off. Think brand consistency.
But that doesn't mean it has to be something from which you never cool down or take a pause. For example, say you want to go on vacation, you might want to take a brief pause in your content creation efforts.
However, thanks to technology, there are ways to automate, simplify, and automatically promote your business in a way that uses less time on your end. For example, think social media schedulers and scheduled Google Ads or Instagram Marketing.
Easy Ideas for Consistent Yoga Business Marketing
Here are some easy ideas for consistent yoga business marketing that can help you gain traction in growing your yoga biz.
Leverage Social Media.
Make social media work for you! Post and publish often. Choose a favorite platform (or platforms) and consistently create quality content.
Aim to consistently promote your brand, your business WHY, and consistent message across all chosen platforms. This will help you develop your brand and brand recognition. People will come to know what you do, who you are, and what you sell or offer.
Be Trustworthy.
Marketing consistency actually helps establish trustworthiness. Your yoga students, potential clients, followers, and audience generally value trustworthiness. If you and your brand are viewed as trustworthy, people are more like to want to buy your product or service.
Use Identifying Logos, Signature Colors, or Design Patterns
Market your yoga biz consistently by using your logo, signature business colors, or designs. For example, some Instagrammers like to create catchy pages by using particular color palettes or patterns with their image content. This helps you stand out and remain memorable among your audience.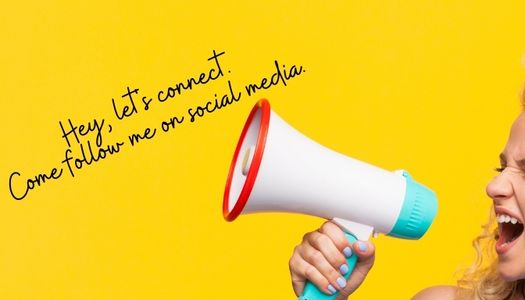 Comment below. I'd love to read your thoughts on this post. What is the number one thing you view as essential for growing a successful business? Drop a comment below.