Let's talk about why yoga teachers need CPR/AED certification.
First, off, this blog post is not legal advice. It is for educational and informational purposes only. To find out if you need CPR / AED / First Aid Training as a yoga instructor, you'll need to consult any governing or regulatory bodies in your state or country, your employer, or insurance provider. A legal professional in your geographic area could help you determine specific requirements, if you are unsure of required (if any) certifications.
Let's go.
Affiliate Links Disclosure: Naked Earth Yoga is reader-supported. When you buy through links on our site, we may earn an affiliate commission at no added cost to you. Thank you for reading. You can read the full privacy policy here.
Do Yoga Teachers Need CPR / AED / First Aid Certification?
As per my above disclaimer, it's up to you to find out if there are legal requirements, unique to your circumstances, that require you to hold CPR / AED / First Aid Training. For example, some employers, such as gyms or schools, require yoga instructors keep current CPR certification.
Some insurance providers may also require proof of CPR with AED certification.
Best Practices
Beyond specific legal requirements or any applicable duties of care, it is often argued that yoga teachers should hold CPR and first aid training certification as a professional best practice.
Personally, I believe yoga teachers should have some sort of CPR training. I think this training should also include basic first aid, whenever possible. Even if training is not mandatory or compulsory, I see emergency safety skills training as an important measure. These skills can help provide a safer yoga practice environment.
Plus, I think certification helps add credibility to the yoga instructor role. Credibility as a teacher, yoga business owner, and in the wellness, health, and exercise industry. After all, a minimum of basic training and awareness of CPR is typically required in other medical, health, fitness, sports, or coaching fields. For example, many professionals in these fields must know CPR, how to use an AED machine, or basic first aid.
Care On and Off the Yoga Mat
In addition, knowing what to do in a medical emergency is important on the mat and beyond the mat.
Since yoga classes are often physical practices, it's important to know how to immediately handle any injuries that arise during class. Since yoga involves exercises and students often vary in levels of physical fitness, a yoga teacher needs to know how to handle unexpected injuries or accidents, such as minor twists or sprains. In the worst case, should a student experience a medical emergency, such as a heart attack, a CPR trained teacher could make the difference between life and death.
Furthermore, a CPR trained yoga teacher possesses life saving skills that go beyond the mat. These skills could help or save an immediate family member, relative, friend, or community member during health emergencies.
What is CPR Training?
Cardiopulmonary Resuscitation, known as CPR, "is an emergency lifesaving procedure performed when the heart stops beating. Immediate CPR can double or triple chances of survival after cardiac arrest." According to the American Heart Association (AHA), 475,000 Americans die from cardiac arrest each year, and bystander CPR can help improve chances of survival.
CPR involves administering a series of chest compressions and breaths during cardiac arrest (when the heart stops beating), and using an AED if and when available.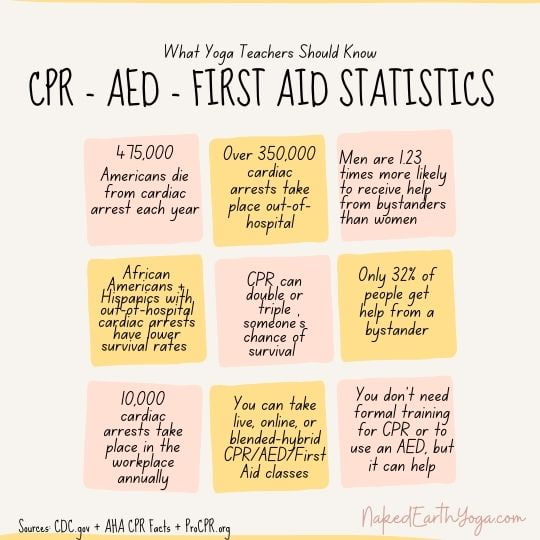 How to Find CPR Training
You can find CPR training offerings in your local community, such as at community centers, schools, fire departments, hospitals, through sponsored events, or at private safety training companies. Some employers also offer CPR training certification programs to employees.
Additionally, you can find safety trainings in different formats to suit your availability or lifestyle. For example, there are live, online, and blended format CPR classes (and other trainings, such as water safety which you might need for teaching SUP Yoga (paddleboard yoga), offered through the American Red Cross and the American Heart Association. If you are located outside of the USA, you may find similar organizations offering community or professional safety trainings.
Where can Yoga Teachers Find First Aid Training?
Often First Aid skills modules are built into CPR courses. For example, the Red Cross offers an Adult First Aid/ CPR class. The American Heart Association offers a similar training.
Basic first aid training, awareness, and knowledge, can help a yoga teacher deal with medical emergencies (or situations that could lead to them without quick intervention) such as cuts, scrapes, fractures, allergic reactions, or asthma attacks.
Benefits of Yoga Teacher CPR Training
To recap, here are some of the benefits of yoga teacher CPR / AED / First Aid safety training and certification:
Better prepared to handle health emergencies during a yoga class or off the yoga mat
The most valuable benefit: Life saving skills that could literally save a life – a student's life, another yoga teacher, family, friends, or members of the community
Increased confidence as a teacher
May help train eyes for safety and better spot potential hazards – e.g., level of student fitness or known student health concerns, combined with heat in a yoga studio or outside yoga practice, might help a teacher be more aware of heat hazards
Better prepared to act and not feel powerless: less than 3% of the U.S. population receives CPR training, so a trained teacher becomes prepared to act in an emergency
Increased student confidence that their teacher takes their responsibilities and students' safety seriously
Professionalism – Best practices
Can help set a yoga teacher apart from competition
Education: helps a teacher learn more about the human body, limits, capabilities
Learn how to use AEDs that are often found hanging in local community locations, like grocery stores, shopping malls, and libraries
May reduce insurance rates
May help a teacher get a job or land one faster
Basic certification is quick – often only a couple of hours of your time + doesn't usually cost that much (sometimes you can even find free classes)
Can Help a teacher choose or build an appropriate first aid kit for the classroom or studio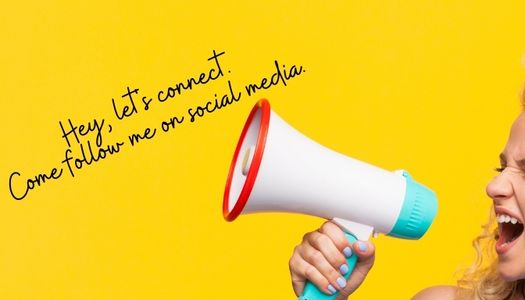 Comments: Drop a comment. What do you think? Should yoga instructors or yoga teachers be required to take CPR training or stay current on CPR certification? Do you have CPR certification? And do you keep it up to date? Do you recommend CPR training?