Are you relying on Google search to bring you yoga students and clients? If so, this guide will help you understand how to improve your yoga blog or website search engine optimization (SEO), so you can rank higher on Google Search.
If yoga students or prospective clients can't find your yoga landing page or blog, you will lose out on opportunities to build a 6+ Figure Yoga Business.
Affiliate Links Disclosure: Naked Earth Yoga is reader-supported. When you buy through links on our site, we may earn an affiliate commission at no added cost to you. Thank you for reading. You can read the full privacy policy here.
Why Ranking High in Google Search Matters
According to HubSpot, "Google controls a little more than 92% of the search engine market share worldwide." Sure, there are other search engines out there, like Bing and DuckDuckGo. However, the far majority of people searching for content, like yoga inspiration and education, use Google.
It's just the way it is. It least right now.
So, if you want to grow a wildly successful yoga business and maximize or diversify money making opportunities, you need to get your yoga site ranking high on Google.
Just having a blog or website isn't enough to guarantee that people will visit it.
According to Search Engine Land, only about 50% of Google Searches actually end in a "click." What this means for you is that it's critical that your pages show up high in an Organic search results list. Otherwise, you may have even less chance of getting clicks and eyes on your content. After all, when people do click, over 25% of them click on the first search result.
How to Improve Your Yoga Blog or Website's Search Ranking
What you do with your website or blog and its content matters.
You can influence where your yoga blog or website's pages show up in search hits. Unfortunately, there aren't any guarantees where your content will end up appearing in the ranks. And they aren't guarantees what pages a search engine will retrieve.
However, there is a lot you can do behind the scenes to stack the odds in your favor.
Behind the Scenes Website Improvement
To rank highest on a Google Search, you'll want to optimize website front-end and back-end performance.
Sometimes optimization on the back-end can require a little tech-savvy or developer know-how.
If you're the DIY type, like many bloggers and small businesses, you'll likely have access to technical support, customer service, or community help forums when you use a recommended webhost for your website or blog. So, if you run into technical issues that need resolving to boost search engine rank performance, those are good places to start for help.
Example of back-end optimization to help your blog or website's search results listing:
Database optimization
Scripting issues
Server / Browser caching
Speed Issues – e.g., improve page loading speed
Updating – e.g., themes, plugins
Optimization YOU Can Do to Improve Your Search Engine Ranking
Even if you're not technical or new to blogging, there's a lot you can do to improve your search engine ranking on the front-end.
Here are st

eps you can take to improve your Google Search Rank

:
1. Write High Quality Content.
The number one thing you can do to increase your search engine rankings is to produce awesome quality content.
Your yoga blog or website content should be relevant and authoritative. It should also be largely original (and of course, your own content or that used with permission).
If you're refreshing old content, be sure you change it up, perhaps even by up to 50%, to maximize rank value and web traffic to it.
2. Think Keywords.
It is more important than ever to write content that contains keywords for SEO. Keywords might be a single word, two words, or a longtail keyword phrase, which is generally made up of 3-5 words.
Learning how to use the right keywords for SEO isn't an overnight thing. It comes with practice, research, and study. You can find tons of free SEO resources online, such as on YouTube, to learn about choosing the right keywords to get your pages ranked well. You can also find courses, masterclasses, and workshops online. You'll be an SEO expert in no time if you are serious about learning the ins and outs of search engine ranking and getting traffic to your yoga site.
To illustrate, to rank higher on google for a blog post about yoga studios, you'll want to include relevant keywords. Some of the best yoga studio keywords might include terms like: yoga near me, the yoga studio, beginner yoga classes near me. Of course, you don't want to overuse or stuff keywords, otherwise it will lose its reader-friendliness and natural to read qualities. Google seems to prefer user-friendly content.
Where To Find Keywords for Your Blog Posts:
There are many places to find keywords or longtail key words for your blog posts or site content. Some popular resources for finding keywords include:
Keyword Search Tools. For example, Semrush, Google Keyword, Moz, etc. Look for trial offers before you buy if you want to try out a paid keyword search tools before you make the annual or monthly investment.
Answer the Public. This is a great free resource for finding keywords or blog content ideas, such as questions to answer in your posts. See example below.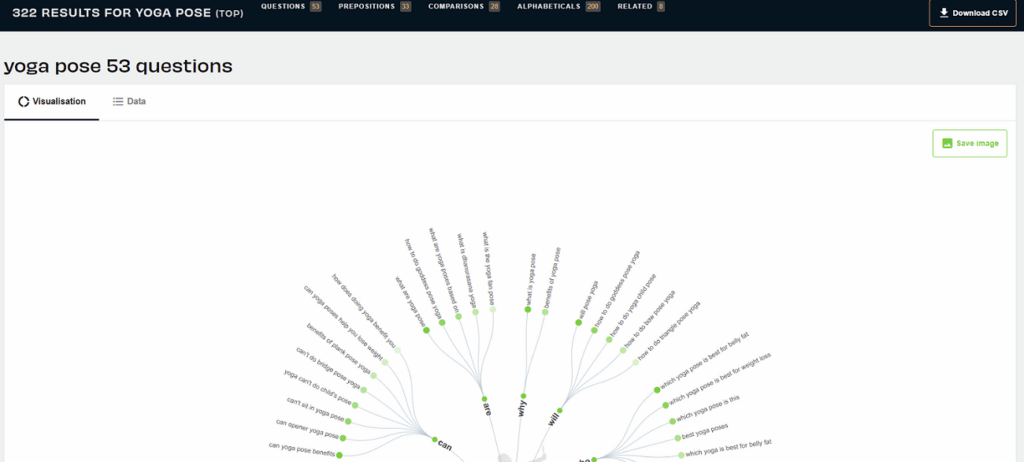 Google Trends. A useful resource for finding keywords and content ideas, as well as analyzing search trends.
Reddit. Some bloggers find success using Reddit for keyword ideas.
3. Think Organization and Layout.
To get the best search ranking, you'll also want to think about content organization and layout. For example, you'll want to use headings properly.
You'll also want to ensure your content pages are user-friendly. That means well organized and easy to read. For example, think lists and bullet points, and avoid long, no-end-in-sight paragraphs. Traditionally, Google has rewarded content that is user-friendly.
4. Get Cozy with the Google Algorithm.
Similar to the ever-changing Instagram Algorithm that shakes up Influencers and Content Creators, the Google Algorithm also changes. No one knows for sure how exactly it works or how to predict how Google Search will rank content.
However, blog guru Neil Patel, suggests that bloggers at least try to keep at least a bit in the know about major Google changes that could affect your rankings.
Honestly, if you're serious about growing your yoga business, you'll either need to educate yourself about how your website or blog works, or you'll need to hire someone to do the heavy lifting.
The more you know about content creation, blogging, SEO, and how search rankings work, the better your chances for increasing your income. After all, as a yoga teacher, you will make money when your ideal students or clients find you online and buy your offers (products, services, or classes).
Or when they visit your blog and you earn money through affiliate or traffic-generated advertisement income. It's as simple as that.
5. Analyze Your Competition.
To rank higher on Google, you'll want to analyze your competition. Look for similar posts in your yoga niche that appear on Google's first search page. Consider using keyword tools to analyze their keywords, content length, and content questions.
6. Use Alt Tags.
Be sure to use keywords in your alt tags to describe your images and videos. This is yet another way to get your content to rank higher on Google.
7. Use SEO WordPress Plugins
If you are using WordPress as your content management system (CMS) for your yoga blog or website, be sure to install an SEO plugin like Yoast or All in One SEO.
These plugins can help optimize your blog posts, so when you hit "publish," you're already poised for good ranking. For example, Yoast SEO will let you know if your post title is too long and less optimal for good search ranking results.
As well, it will let you know how well your blog post does for readability. Remember, Google likes high quality, readable content.
Comment: Have a favorite tip for improving search engine ranking? We'd love to hear your thoughts. Leave a comment below.
Thanks for reading. Please be sure to follow us on Instagram for