If you want to increase audience engagement, you need to create catchy social media titles and headlines.
Whether you want to grow your Instagram following or get more eyes on your blog or yoga class schedule, you've got to get creative.
We're living in fast times. If you want to stop the scroll and get someone to pause on your post or blog link, you've got to be clever.
I'm not talking clickbait here. Though that works for some content creators.
Instead, I'm talking about catchy titles and headlines that immediately hook your followers and audience and take them to your legit, high-quality content.
Affiliate Links Disclosure: Naked Earth Yoga is reader-supported. When you buy through links on our site, we may earn an affiliate commission at no added cost to you. Thank you for reading. You can read the full privacy policy here.
Help Your Audience Discover Your Content with Catchy Titles and Headlines
You can write the best, top-notch social media or blog content all day long, but if it doesn't have a catchy title or headline, you're losing out. Big time.
So what do you do?
You get creative.
You think marketing strategy MIXED with a hearty dose of psychology and a sprinkle of human behavior.
Why?
Because you want to create titles and headlines that are catchy, intriguing, and shiny enough to stop (or at least slow) the scroll.
Here are 5 Foolproof Ways to Create Content Titles and Headlines That Get Noticed
Roll up your sleeves and get ready to type or write…
1. Use Numbers
Numbers are a great headline and title hook. Think BuzzFeed style. Numbers quickly grab attention and make readers want to see what's next.
Numbered lists or instructional lists work magic, too.
Example: 7 Reasons NOT to Do Yoga.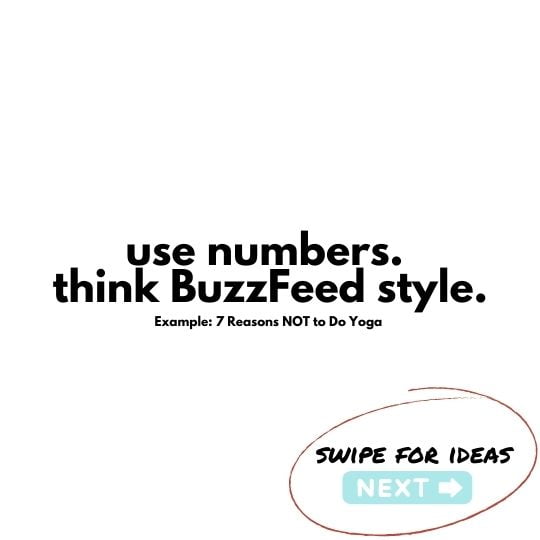 2. Attention Grabbing Descriptive Words
When it comes to social media headlines and blog titles, it's okay to be desperately seeking attention. So don't shy away from using grabby, descriptive words. Try to paint a powerful image with your words.
Example: Get a Better, Sexier Butt with These Yoga Poses.
3. How tos
Who doesn't love a good how to post or Instagram post or caption? How to titles and headlines oten make irresistible clicks.
After all, who isn't in the mood for a little extra know how or self-improvement , right? So, if your content is about explaining how to do something to your audience, like yoga teachers, go ahead and reel your readers in with a rock solid how-to title.
Example: How to Make More Money as a Yoga Teacher in 2022.
4. Evoke Emotion
Ooohh… here's another powerful and foolproof way to create catchy headlines or blog titles. Use the power of human emotion.
Give all the feels with adjectives and emotion-fueled words.
Example: Why He Dumped You for His Young Yoga Teacher
5. Convey Urgency
If you really want to get eyes on your content or readers to click on your links, conveying urgency in a headline or title often works like a charm. To do this, you craft your words using time sensitive language.
Example: Sign Up Ends in 24 Hours For My Final Yoga Retreat of the Year
Looking for more awesome social media and blog tips to grow your yoga business?
READ: 6 Seriously Incredible Reasons to Start a Blog. And if you love Instagram, make sure you're posting these types of posts that drive Instagram engagement.