Looking to increase your Instagram engagement? Then try these 5 types of posts that will drive Instagram engagement.
Yep, they work!
But don't just take my word for it. You've gotta try them and see for yourself.
Sure, the algorithm is constantly changing and it may seem tough to please it, but these types of posts can get you noticed on social media. And above all, they can drive engagement by your social media audience.
Affiliate Links Disclosure: Naked Earth Yoga is reader-supported. When you buy through links on our site, we may earn an affiliate commission at no added cost to you. Thank you for reading. You can read the full privacy policy here.
What Do You Want Increased Engagement on Instagram?
Rock solid, powerful engagement on Instagram makes the algorithm HAPPY. That's why you want engagement on your Insta feed.
But that's not the only reason.
Engagement means your audience is drawn to your posts, your words, your brand–you. It says something. Often, a lot of something about audience trust or interest.
Building a business, growing a brand, or attracting students or clients requires interest.
Engagement means your audience likes what you do. It appreciates that you show up. That you deliver quality content. Consistently. Rinse and repeat.
So, let's dive into 5 types of posts that you can deliver to increase engagement!
Types of Posts To Grow Instagram Engagement
1. Reels
Reels are practically magic for engagement right now.
Will they be forever? Who knows. But if you like to make them, make them! If they aren't your thing, don't stress. You can always grow your Instagram with other types of posts. Reels, however, are a powerful way to engagement your audience.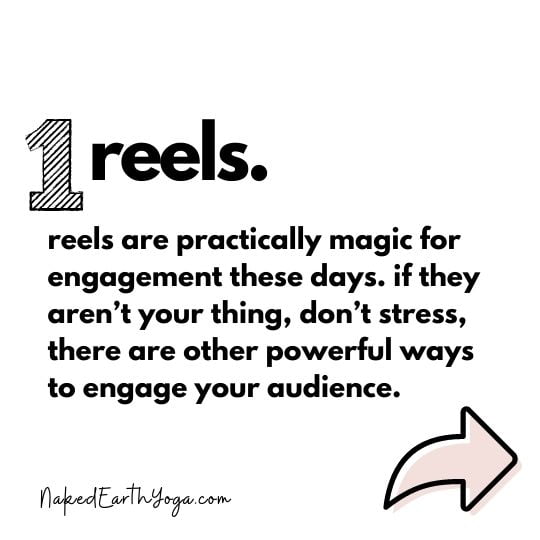 2. Comparisons
Posts that compare are great for social media engagement. Think transformative or transformation posts. You know, those before and after posts. Or "do this vs. don't do that" kind of Insta posts.
3. Stories.
Instagram stories are great for driving engagement. This includes driving traffic back to your website or blog. In addition, posting on your story regularly can get you more profile visits.
How to boost engagement with stories? Don't shy away from using polls and stickers on your stories. For example, use those link stickers generously.
READ MORE: How to Leverage Instagram's Link Sticker Feature in Stories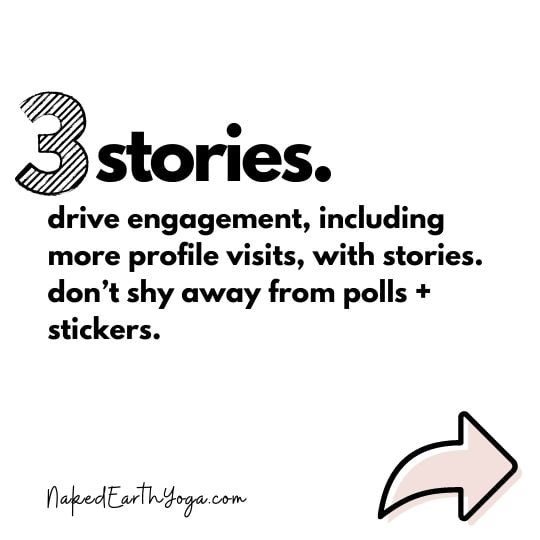 4. Giveaways
Oh, baby! Giveways still rock. They aren't going anywhere anytime soon, either.
A time-test engagement strategy classic. People LOVE giveaways. They certainly don't hold back from engaging on social media when there are freebies up for grabs!
READ MORE: Learn how to create Freebies that Build Your Email Marketing List and get noticed on social media.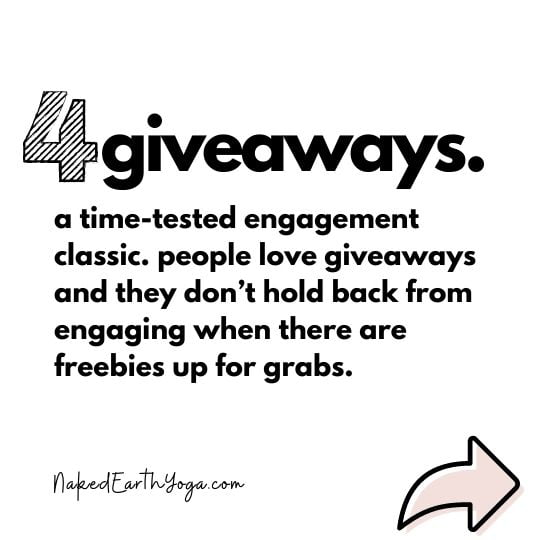 5. calls to action.
People want to engage! After all, that's sorta kinda the whole point of social media, ESPECIALLY Instagram. So, give them something to do!
Calls to action posts are a great way to drive engagement on your IG account. Calls to action posts give people clear instructions to take specific action. For example, follow me right now on Instagram if you are totally loving this blog post.
Go get that engagement!
So, tell me? Are you ready to go get that Instagram engagement?
Of course, right?
Engagement is a key to growing your following on social media. But most importantly, increased engagement plays a mega role in growing your business. And if you are growing a yoga business, that's a BIG deal.
If these posts are helpful to you, or if you have other engagement ideas, drop a comment below. I'd love to hear from you.