Whether you are a yoga teacher, yoga blogger, yoga influencer, or health & fitness entrepreneur, affiliate marketing programs can help you increase your monthly income.
Plus, affiliate programs can help people, students, clients, and yogis learn about cool yoga products. As well, affiliate programs can help show them about yoga services that are on the market that can enhance their yoga practice or yoga business.
What is affiliate marketing?
Affiliate marketing is when you get paid for driving traffic or sales to a company. Basically, it is an arrangement in which a company, such as a retailer or service provider, pays commission to bloggers, influencers, or external website for sales (or traffic) generated from referrals. 
For example, a yoga teacher or blogger might partner with a yoga mat company. The teacher or blogger then promotes the company and/or mat products, perhaps by blogging about a favorite mat or by outfitting a studio with the company's mats, and refers people to the company's website.
When students, clients, and readers make purchases, the yoga teacher or blogger earns a commission, typically a percentage, from the sale. Later, the company forwards payment to the yoga teacher or blogger.
Affiliate marketing is a leading way bloggers and online content creators make money today.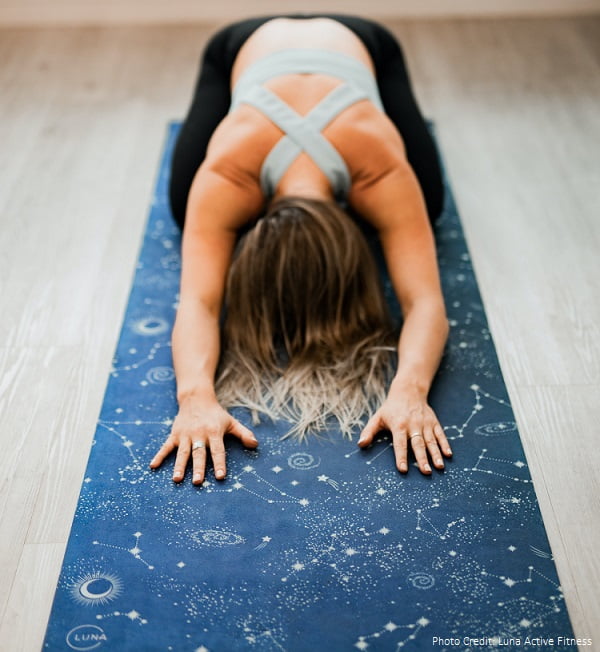 Can You Actually Make Money Through Yoga Affiliate Programs?
Absolutely! Successful affiliate marketers, including bloggers, social media influencers, and yoga teachers can attest that it's possible to make money from affiliate marketing.
As in, extra money.
However, it's even possible to create a full-time, lucrative business from affiliate marketing.
12 Popular, Money Making Yoga Affiliate Programs
If you want to increase your earnings, here are 12 yoga referral programs you should look into NOW!
1. Manduka Affiliate Program
Manduka is a popular yoga mat company (though the company also sells other yoga related products). It offers three different programs for affiliates and ambassadors. These programs include an influencer program, a teacher reward program, and affiliate program for publishers.
2. Yoga International Referral Program
Yoga International offers a generous referral program. Worth noting, this program allows you to earn $50 in the form of an e-gift card for each referral you make.
3. DDP Yoga affiliate Program
DDP Yoga also offers an affiliate program. Created by a former wrestler, this program offers commission on sales of yoga program digital subscription and DVD packs. Additionally, it offers commission on sales of promotional items, such as hooded sweatshirts and t-shirts.
4. Gaiam Affiliate Program
The Gaiam Affiliate Program is offered through the commission tool Rakuten LinkShare. LinkShare makes it quick and easy to apply to the program. If your blog or website is approved, you'll earn commissions of up to 10% on referrals.
Since Gaiam is a leading name in the yoga community for fitness equipment, like mats, blocks, and fitness wear, you have real potential to earn with this affiliate program.
5. prAna affiliate Program
PrAna offers an affiliate program for publishers, bloggers, and influencers. If you love prAna clothing and accessories, definitely check out this affiliate program. The program is administered through Commission Junction. You earn a commission each time someone you refer to the prAna website makes a purchase.
6. Hugger Mugger Affiliate Program
Hugger Mugger offers an affiliate program (open to USA Residents only). The program is free to join. It allows you to earn a 10% commission on every referred sale made on the company's website. Plus, a 21-day cookie, gives you 3 weeks after the initial click to receive credit for sales.
7. Sanuk Affiliate Program
If you love flip flops and yoga, definitely check into Sanuk's Affiliate Program. As an affiliate marketing partner, you can earn 3-13% commissions on Sanuk products.
8. Wai Lana Affiliate Program
Wai Lana also offers an Affiliate Program. Its program offers a generous 15% commission on sales generated through your referral website. Oh, the company uses Shareasale.com, which makes it easy for you to become an affiliate partner.
9. JadeYoga affiliate Program
JadeYoga, a leading retailer of high quality yoga mats, offers an affiliate program that allows yoga teachers and influencers to earn 20% on referred retail purchases.
10. Alo Yoga Affiliate Program
Alo Yoga also offers a yoga affiliate program. Its program allows you to earn up to 12% on purchases made through your referrals. When you sign up, you'll receive an Alo Yoga referral code that allows the tracking of referred purchases.
11. Barefoot Yoga Affiliate Program
Barefoot Yoga offers an affiliate program for yoga instructors or anyone focused on health & wellness. When you become an affiliate, you are eligible to earn 10% on each sale. Sales are generated when visitors click through your referral link and make a purchase.
12. Teachable
Teachable is an awesome platform for teaching and sharing your yoga classes, pre-recorded videos, and workshops. Plus, it offers a generous affiliate partner program when you refer teachers and creators.
WHAT'S IN IT FOR YOU?
Creating affiliate marketing relationships increases your potential to earn money from your yoga business. As well, it can bring you more revenue from your yoga blog or social media influencer accounts.
If you are interested in increasing your revenue this year or next, don't overlook the potential of earning income from referral commission.
Apply to affiliate programs that align with your interest or product experience. Or choose programs that fit your yoga niche, and likely appeal to your yoga clients, followers, and audience.
Of course, while you can always look for the highest paid affiliates, don't overlook affiliate programs that offer generous perks like product samples or product testing (and other opportunities).
For additional guidance, you can always look to see what other yogis in your niche are promoting. For example, check out top yoga bloggers and influencers, such as top yoga blogs 2021, and see what brands and companies yoga teachers and influencers are partnering with to earn commissions.
What are Other Ways Yoga Teachers and Influencers Can Make Money?
There are many other ways besides joining top yoga affiliate programs to make money from yoga. LEARN HOW YOU CAN MAKE MONEY WITH YOUR YOGA TRAINING & SKILLS IN 7 ways to Make Money as a Yoga Teacher or Yoga Influencer in 2022.
Drop a Comment
Please, share your thoughts on affiliate marketing opportunities below for yogis.
What are your thoughts on this list? What's missing? What should be included here? Do you have a favorite affiliate partnership? How important is affiliate marketing to your yoga business model? Or to your financial survival?