AI transforms yoga business time management. Between planning yoga class sequences or planning a yoga retreat, there's not often a lot of free time for yoga teachers to focus on business marketing. But that's where AI, or artificial intelligence, like ChatGPT, can help.
Generative AI is a game changer that can help yoga entrepreneurs free up time as they grow their yoga startup.
Grab a cup of coffee or tea, and stay here for a few moments. I'll give you the scoop that can help you radically transform the way you approach your yoga marketing and save time. ☕
Affiliate Links Disclosure: Naked Earth Yoga is reader-supported. When you buy through links on our site, we may earn an affiliate commission at no added cost to you. Thank you for reading. You can read the full privacy policy here.
How Generative AI Can Transform Time Management for Yoga Teachers
To illustrate my point about AI and yoga business time management, I spent about 15 minutes trying to come up with a clever title for this article. FIFTEEN MINUTES.
Fifteen sweet, precious minutes that I really could have put to better use. Like expanding my yoga business coaching or adding content to my yoga business school. Fifteen minutes that I can't ever get back.
But in order to hit publish on this article, I first needed a clever title that would capture and engage my readers —you.
Some of the not-so-clever titles I came up with and quickly deleted:
How AI Can Save Yoga Teachers Time.
AI Can Save Yoga Teachers Mega Time Promoting a Yoga Business.
Why AI Can Make Your Yoga Business More Efficient.
Why Artificial Intelligence is Real Intelligence for Your Yoga Biz Marketing
Ummm…. No sale. I didn't like any of these titles. So, what did I do? I decided to stop wasting my time and look to AI for a little assistance.
ChatGPT rendered a title with a similar idea to the title you see now see on this article here. I would never advocate copy and pasting from ChatGPT. That's why I changed the title up a bit, but I did keep the Boost Efficiency part.
I wanted a hook and AI delivered.
Most importantly, AI helped me better manage my time, so I could move on to another important yoga business project.
Why Should Yoga Teachers Care About Generative AI?
Yes, it's techie. And sure, it probably seems hardly Zen, but Generative AI offers time saving potential for yoga teachers, especially those looking to transform a part-time teaching business into a full-time yoga career.
Generative artificial intelligence, better known as AI, describes algorithms or models, like ChatGPT, that can help yogapreneurs accelerate business growth.
I've previously written about ChatGPT and the benefits of AI in How ChatGPT Can Help Yoga Teachers. You can also read about AI for yoga entrepreneurs over here on Medium.
If there's one reason why a yoga teacher should care about AI it's this:
It can save YOU, the yoga teacher, mega time on your business marketing efforts. ⏰
And don't just take my word for it.
According to VentureBeat, Salesforce, and other marketing sources, "marketers see generative AI as a 'game-changer' that can save them about five hours of work every week — that's more than a month every year, assuming eight-hour work days." 📅
Ways AI Can Save Yoga Entrepreneurs and Yoga Teachers Time
You definitely have to read all about the ways ChatGPT can help you grow your yoga business, but in brief, here are some of the ways that AI can help you manage your time efficiently. And save you a lot of time.
AI can help you manage your time better by helping you with:
1. Content Creation
AI can help you generate content ideas and create content quickly, such as helping you draft creative yoga email newsletters, social media captions, and ads.
AI, like ChatGPT, can help you crush your to-do list. It can help you get things done faster. It can also help you focus on more important tasks, which ultimately can save you time and money.
LEARN MORE: Why You Need an Email List for Your Yoga Business
2. Finding Inspiration
Whether it's finding a fun hook for a blog post or an idea for an Instagram caption, generative AI can help yoga teachers and yoga business owners save time. If you're stuck with writer's block or having a hard time getting started on a business project, ChatGPT is a great tool for getting you unstuck. Of course, a yoga business coach can also help get you unstuck when you need broader inspiration and direction for your business. 💡
READ MORE: Why You Need a Blog for Your Yoga Business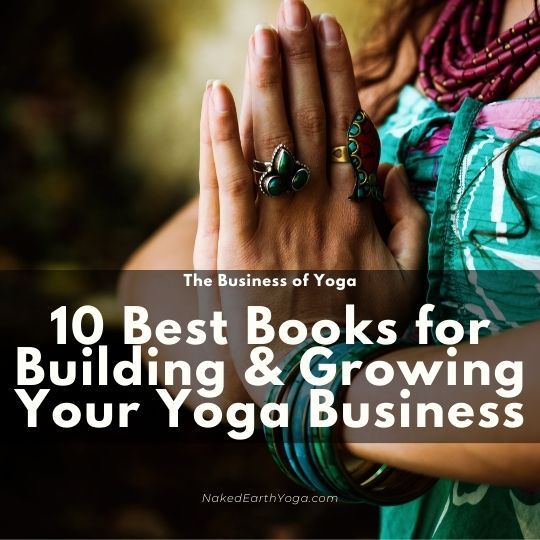 3. Improving Visibility
AI can also help you save time by boosting your visibility online. One way is by helping you with SEO. Learning about SEO and staying on top of the latest tricks and tips can take time. Of course, you can join my Content Creation club for free to help. You can also resort to using AI, like AI powered SEO, which can help you analyze your yoga teacher website or blog to help boost your marketing strategy. And most importantly, to help you get more visible online so yoga students and clients can find you. 📍
TEACH ME MORE: How to Improve Your Yoga SEO
You can learn more about other ways AI can help you boost your efficiency and help you with time management on my yoga business blog. You can also sign up for yoga business courses and classes over at my yoga startup school for yoga entrepreneurs, just like you.
Follow me on Instagram
For more yoga business inspiration, come follow me on Instagram @NakedEarthYoga.
See you over there soon, Jules 💫
Drop a Comment Below
Do you think AI has the potential to transform yoga business time management? How has AI transformed your life as a yoga entrepreneur, yoga teacher, or in your yoga start-up?