If you're not yet using Pinterest as part of your Yoga Business Marketing Strategy, it's time to pivot or rethink its value.
Pinterest is a visual discovery engine for finding ideas like recipes, home and style inspiration, and more.

With billions of Pins on Pinterest, you'll always find ideas to spark inspiration. When you discover Pins you love, save them to boards to keep your ideas organized and easy to find. You can also create Pins to share your ideas with other people on Pinterest.

–Pinterest Help Center
Are you ready to learn why you need to implement Pinterest in your yoga biz marketing plan?
Let's go.
Affiliate Links Disclosure: Naked Earth Yoga is reader-supported. When you buy through links on our site, we may earn an affiliate commission at no added cost to you. Thank you for reading. You can read the full privacy policy here.
Why Pinterest is a Great Business Opportunity for Yoga Teachers
Nah, I'm not someone who sits with a cup of coffee in front of my computer spends hours pinning pretty Pinterest pins and pictures to my Pinterest board. Oh, how I'd love to do that!
However, I have learned that as a yoga teacher and yoga business owner that Pinterest is a business opportunity that yoga teachers can't miss out on! If you haven't already read, How Pinterest Can Help You Grow Your Yoga Business, be sure to bookmark the link and come back to it later after reading this article.
Here are some of the positive reasons why yoga teachers should use Pinterest to launch or grow a powerful, profitable yoga business. Some of these reasons include:
Increased website or blog traffic
Improved yoga brand awareness
Lead generation
More yoga sales, subscription purchases, or membership enrollments
Niche credibility
And the list goes on… keep reading here for 7 reasons why you need to consider Pinterest in your marketing plan.
7 Reasons Why Pinterest is a Must for Your Yoga Business
1. Pinterest is a powerful,
visual

search engine.

Yeah, I get it if it seems like Pinterest is only a pretty picture place. But it's sooooo much more than that. Pinterest is a powerful visual search engine. Pinterest can allow you to showcase your business in visual form to your audience and prospective students or clients. With its social features, like following, commenting, and board sharing (invite to pin) features, you can also connect with others.

How this helps your business: The visual appeal of Pinterest is exactly the thing that can help you attract and engage potential yoga students. For example, you could create boards and pin images of your favorite yoga retreat locations, your favorite yoga poses (asanas), or tips for living the yogic lifestyle. Your boards can help you build connection and community, as well as help you stand out as an expert or knowledge source in a particular area.
2. Pinterest Can Help You Get Noticed.
The visual nature of Pinterest can help your blog posts, yoga products, yoga classes or yoga retreats get noticed.
How this helps your business: Images of your offerings can help gain interest and engagement by students and prospective clients. Images can also make your business memorable, in a way that might differ from text, email newsletters, or other social media platforms. Pinterest can also help you reach a wider audience.
3. Pinterest can help you stand out as a yoga expert.
This powerful, search engine, which is also a social media platform of sorts, can allow you to stand apart from the yoga crowd and establish yourself as an expert. By thoughtfully curating your content, you can establish yourself as an expert in your yoga niche and also build credibility.
How this helps your business: Here's an example. If you consistently post about yoga for back or spine health or back injuries, you could potentially quickly stand out online as a "back yoga teacher."
READ MORE ABOUT ESTABLISHING YOURSELF AS AN EXPERT: How to Establish Your Unique Yoga Niche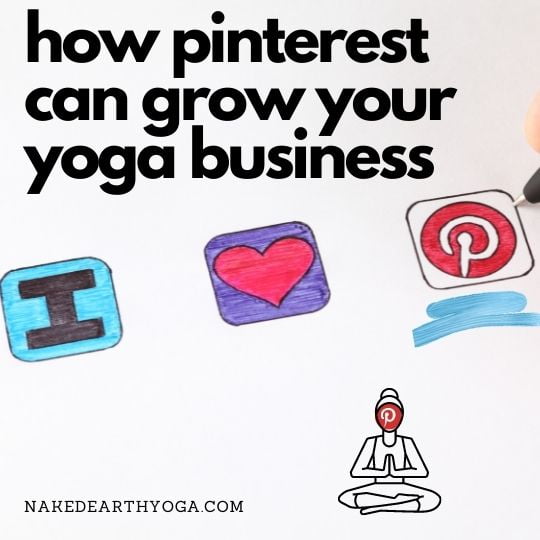 4. Pinterest Can Help Drive Traffic to Your Yoga Business Website.
It's all about traffic! Well, maybe not all about traffic, but growing a yoga business online does require getting the right traffic–or the right audience–in front of your message or product. By pinning content to Pinterest, you can help steer your potential ideal students and clients to your website or to your big yoga offering landing page.
How this helps your business: Pinterest can help get eyes on your content and get people to click links to visit your website or other yoga pages. Getting the right traffic to your site is important for growing your yoga business. After all, in order to sell products or services, you need the right students or clients to see your stuff and notice YOU! Driving traffic to your website is the first step in converting visitors into paying clients!
5. Pinterest Can Inspire You.
Pinterest is overflowing with inspiration to help you grow your yoga business. For example, you can find content and information to help you grow your business, create better classes and new sequences, and discover new yoga products.
How this helps your business: Think of Pinterest as a visual coach. By exploring yoga-related content on Pinterest, you can see what other yoga teachers are doing. You can then come up with fresh new ideas for your own yoga business.
6. Pinterest Can Help You Build a Yoga Community.
Pinterest is yet another online space where you can build community and connection with like-minded yogis, yoga teachers, and wellness experts.
How this helps your business: Community and connections are so important when it comes to growing your business. Sometimes it really is who you know that can help you achieve your goals or make other important connections necessary to growing your business. Pinterest can help you build your network.
LEARN MORE: To discover more yoga pro tips on building a yoga community, check out my Top 10 must-have yoga business books collection.
7. Pinterest Ads Can Help You Boost Your Business Visibility
You've heard of Google Ads, Instagram Ads, and Facebook Ads, but what about advertising on Pinterest? Sometimes tweaking your marketing strategy and testing new waters can boost your business visibility in unimaginable ways.
How this helps your business: Whether you're looking to validate a business idea, trying to get an offering in front of a new target audience, or simply want to try your luck with advertising on a new platform, you might just be in luck with Pinterest.
For More Yoga Business Tips, Follow Me Now on Pinterest: @NakedEarthYoga