Do you dream about becoming a yoga teacher, but there's no way you can afford it? This How to Become a Yoga Teacher When You Can't Afford It article is a must-read then.
Wonder how to make the dream happen when you're strapped for cash? Think it's an expensive, impossible dream?
Or wonder what options are out there for those who cannot afford a yoga teacher training?
Then keep reading here because I'm going to share with you exactly what I'd personally do if I was starting from scratch and couldn't afford a yoga teacher training.
I'm going to share with you creative ways that you can make your yoga teacher dream come true.
Are you ready? Let's go…
Affiliate Links Disclosure: Naked Earth Yoga is reader-supported. When you buy through links on our site, we may earn an affiliate commission at no added cost to you. Thank you for reading. You can read the full privacy policy here.
How to Become a Yoga Teacher When You Can't Afford To Become a Yoga Teacher
What can you do to achieve a yoga dream if you have no money or cash to fund it? Do you have to give up on your dream?
This is a question I've been asked before, including on Instagram.
Since I'm a HUGE believer in following your passion and making dreams come alive, my solution is to seek creative ways to solve the money challenge.
If you want to teach yoga, you have to figure out a way to make that dream happen. Giving up on a dream because of lack of money seems regrettable, especially when there are possible solutions to this dilemma.
What are some of these ideas? Read on below.
Reasons To Become a Yoga Teacher
First off, why would YOU or anyone choose to become a yoga teacher or yoga instructor? What are the reasons to become a yoga teacher?
There are so many reasons! Some, of course, are deeply personal. For example, perhaps you are inspired to become a yoga teacher because of an experience during a yoga class. Maybe a yoga teacher had a profound impact on your life. Or perhaps someone you deeply admire is a yoga teacher, and that is the inspiration right there.
Still others become yoga teachers unexpectedly. Some sign up for yoga teacher trainings, only to further their personal knowledge and experience with yoga, and fall in love with yoga and decide to teach.
Here are some reasons some people choose to become yoga teachers:
To deepen yoga knowledge
To share a love of yoga with others
For the reward – impact on others' lives
Financial gain – some build mega, financially successful businesses out of their passion for yoga
To find personal meaning
For travel lifestyle opportunities – think retreats, workshops abroad
To work with a particular segment of the population – for example, a yoga for athletes niche
To achieve better work-life balance
Ways to Become a Yoga Teacher When You are Broke
Are you ready for some of those ideas on how to become a yoga teacher when you're tight on cash or totally broke?
Here we go…
1. Start Practicing Yoga at Home Consistently.
Choose to live a yoga lifestyle. This lifestyle includes starting a consistent home or personal yoga practice. If you already practice yoga, aim for greater consistency.
Make yoga practice an important part of your life.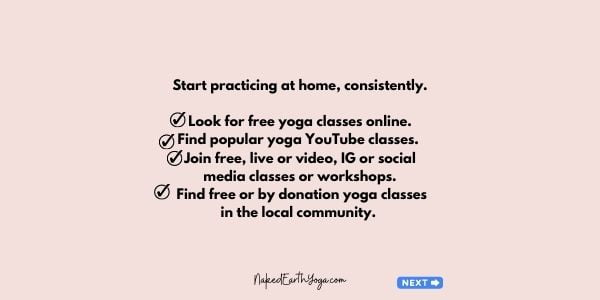 How Can You Practice Yoga at Home?
✔️Look for free yoga classes online
✔️Find popular yoga YouTube classes
✔️Join free, live or video recorded, Instagram or social media classes or workshops
✔️Find free or by donation yoga classes in your local community
2. Look to Volunteer or Intern at a Local Studio
Volunteering or finding an internship at a local studio is a great way to get experience and reduced fees or free yoga teacher training.
You might also look to find a yoga teacher who will take you under their wing.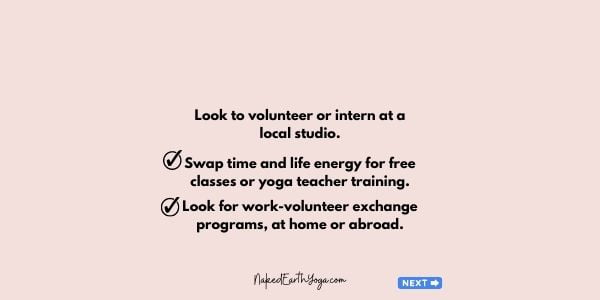 How Do You Volunteer or Intern at a Local Yoga Studio?
✔️ Swap time or life energy for free classes or yoga teacher training. For example, volunteer to clean a yoga studio, wash and sweep floors, or help at the front desk.
✔️ Look for work-volunteer exchange programs, at home or abroad. For example, check out Workaway, a popular volunteer exchange online, for leads or ideas.
3. Look for Low-Cost Online, In-Person, or Hybrid Yoga Teacher Trainings
Besides the growth of online yoga teaching platforms, the increase in online yoga teacher training (YTT) offerings is one of the silver linings of the pandemic. There are now so many different yoga teacher trainings, many Yoga Alliance approved–and with a wide range of tuition or course price tags.
Sometimes you can even find deep discounts, online promotions, or coupon codes for yoga teacher trainings. I once saved hundreds of dollars on an online yoga training that I bought for someone with a discount code. Was I ever so thrilled!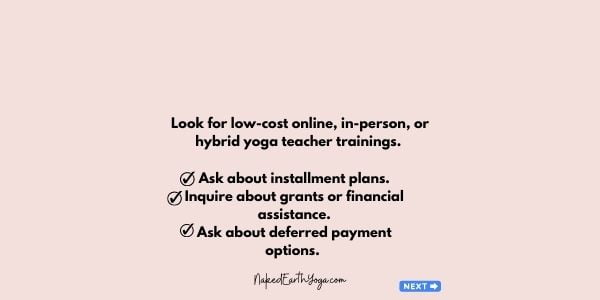 What Can You Afford Yoga Teacher Training Tuition?
✔️Ask for discounts, current promotions, or incentives (e.g., register early or in advance and save money)
✔️Inquire about installment plans
✔️Ask about work-volunteer options in lieu of tuition
✔️Inquire about grants, student or financial assistance
✔️Ask about scholarships
✔️Ask about deferred payment options (e.g., no tuition payment until you have secured a yoga teacher job)

4. Join Free Yoga Communities
Level up your yoga knowledge and experience, and open the doors to learning about new opportunities, by joining free yoga communities. For example, join online communities with like-minded or yoga business goal oriented yogis.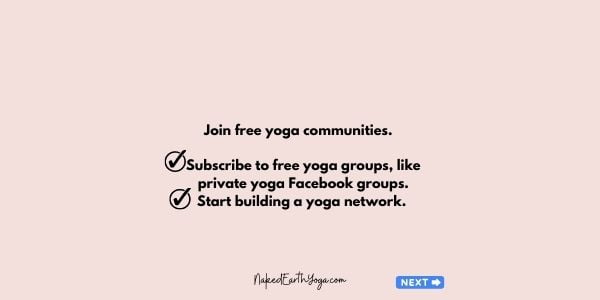 Where to Find Free Yoga Communities?
✔️Subscribe to free yoga groups, such as private yoga themed Facebook groups
✔️Look for yoga networks online
✔️Follow yoga influencers and yoga accounts on Instagram
✔️Build your own yoga network
5. Grow an Online Presence
Another free thing you can do is to begin growing your online presence. Dive right in and build it. Go ahead, launch your own yoga blog. You can learn how to start a yoga blog, step-by-step, in my DIY yoga blog guide.
You can also start building your presence on social media platforms. Though keep in mind, these platforms are rented space–or borrowed space, if you prefer that name, so be warned. Learn what rented space means.
Growing an online presence now can help you down the road when it comes time to launch your yoga business. Here are 6 Powerful Reasons to Start a Yoga Blog Right Now.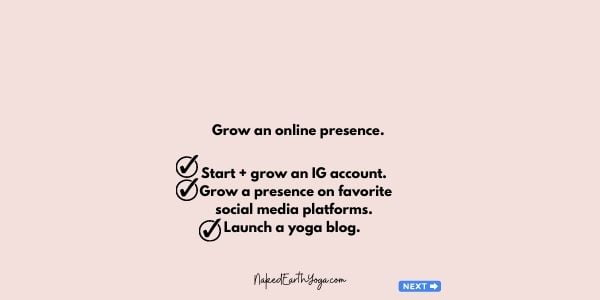 How to Grow an Online Yoga Presence
✔️Start and grow an Instagram Account now
✔️Grow your presence on your favorite social media platforms (e.g., Twitter, Pinterest). Learn more: How Pinterest Can Help You Grow Your Yoga Business.
✔️Launch a yoga blog. Learn more: How to Become a Yoga Blogger Right Now.
6. Follow and Build Relationships with Yoga Bloggers and Yoga Influencers
Oooh, this is such a good one. I can't underscore enough how great it is to follow and build relationships with yoga bloggers and yoga influencers if you are serious about a yoga dream.
Getting to know other prominent yogis and leading yogis in the industry can help you grow your own yoga business, find job or work leads, and help with collaborations. Plus, having a solid network will help you feel more rooted into your dream and committed to your eventual yoga teaching business.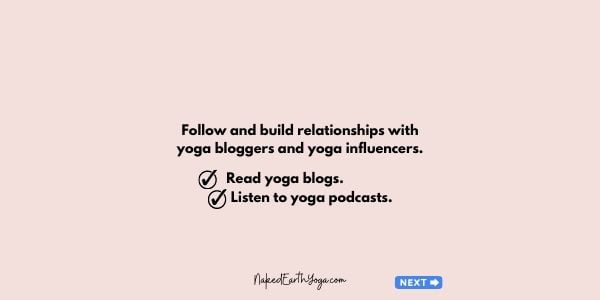 How Can You Build Yoga Relationships?
✔️Read Yoga Blogs, like the Naked Earth Yoga Business of Yoga Blog
✔️Listen to yoga podcasts
✔️Subscribe to your favorite Yoga YouTube channels
✔️Follow Yogis on Instagram
7. Save Your Pennies
Of course, you can also save your pennies. At least whatever pennies you can save. Maybe this means taking on another job, renting out a room in your house, monetizing your yoga blog, or going through your closet and selling off what you don't really need.
Saving for a goal like paying for yoga teacher training or toward starting a yoga business might take a little time, but hang in there. It will be worth it when you achieve your yoga dream.