If you're fascinated by numbers, you'll love this compilation of yoga business statistics. It's mind-shifting for sure. Maybe even mind-blowing if you've never really wrapped your head around yoga industry numbers.
Yoga Business Statistics
Yoga is anything but new. However, yoga business growth is off the charts. Historians trace yoga origins back 5,000+ years to India. Yoga might date back to 10,000 years. Though thanks to social media, online teaching platforms, and the pandemic, yoga is now a mega growth industry.
Though many yoga studios closed during the pandemic, there is no shortage of yoga classes, workshops, yoga teacher trainings, and virtual retreats popping up online. Yoga is exploding in popularity!
This article will walk you through some key figures and yoga business growth statistics you should know. These yoga statistics can be helpful for getting an overview of yoga business growth or doing research for yoga start-up business plans.
Let's go…
Yoga Industry Statistics 2022
Do you know what's happening in the yoga industry in terms of growth?
If you don't, you really should know, especially if you're a yoga teacher or plan to launch a yoga biz start-up. Knowing what's going on in the industry is essential, so you can devise, adjust, or evaluate your own content marketing strategy for growth.
After all, whether you are creating online content or running a massive brand campaign, you want to be strategic and effective. These yoga industry statistics can help you shape your strategy and steer you in the right direction.
Are you ready to dive in? Let's go.
1. The global yoga market is expected to Generate 66.22 Billion by 2027 (Source: AMR)
According to Allied Market Research, the yoga industry generated 37.46 billion USD in 2019, and is poised for mega growth with an estimate of 66.22 billion USD by 2027. Another source reports that in 2020 the global yoga market reached a value of 41.05 billion USD, and that it will be on track to hit the 60+ billion dollar mark by 2026. (Source: EMR).
This growth trend is positive news for anyone looking to enter the yoga industry as a yoga teacher, yoga brand, or interested in influencer marketing strategy. In other words, if you've a yoga business dream, it's not too late to chase after it. 😉
2. Approximately 300 million people practice yoga around the world. (Source: International Yoga Federation).
Um, yeah. That's a lot of people practicing yoga. And in their living rooms now thanks to the pandemic.
3. Over 36 million people practice yoga in the United States. (Source: Yoga Alliance).
For perspective, that's more than all of the people who live in Yoga with Adriene's Home State of Texas. Millions more.
4. The top three reasons people start practicing yoga are for: flexibility (61%), stress relief (56%), and general fitness (49%). (Source: Yoga Alliance)
It doesn't take weeks or months of yoga practice to start feeling the benefits of a consistent yoga practice. According to a U.S. National Institutes of Health Study, over 85% of yoga users reported reduced stress. And over 94% of Americans who do yoga, do so for wellness reasons.
5. In the United States, over 25% of yoga users cut back or stopped smoking cigarettes. (Source: NIH)
More yoga, less smoke. If you're a smoker looking to quit, this number sounds encouraging, don't you think?
6. Practicing meditation in the United States increased more than threefold from 4.1% in 2012 to 14.2% in 2017. (Source: CDC)
Interestingly, this statistic was calculated before the COVID-19 Pandemic.
Between yoga, meditation and chiropractors, yoga was the most common complementary health approach among U.S. adults in 2012 (9.5%) and 2017 (14.3%). (Source: CDC)
Sure, you've probably heard of some of the most popular meditation apps like, Headspace and insight Timer, but there are so many more out there. Apps for well-being, meditation, and yoga don't look like they're going away anytime soon!
7. For every One current yoga teacher, there are 2 people who dream about becoming a yoga teacher. (Source: Yoga Alliance)
Do you dream about becoming a yoga instructor? Or do you wonder how to become a yoga teacher?
If you answered yes, be sure to bookmark my step-by-step how to become a yoga teacher guide. And, if you worry that you're too old to become one, think again–and be sure to read my How to Become a Mid-Life Yoga Teacher and Influencer guide.
8. Half of yoga teachers have been teaching yoga for Longer than 6 years (Source: yoga alliance).
Teaching yoga is a career for many yogi lovers. Some yoga teachers even have turned a yoga passion or hobby into a lucrative six+ figure yoga teaching career.
9. Yoga motivates people to eat better. (Source: NHIS)
According to a report, "Nearly two-thirds of yoga users reported that as a result of practicing yoga they were motivated to exercise more regularly, and 4 in 10 reported they were motivated to eat healthier."
10. Some people don't try yoga because it seems exclusive, not inclusive. (Source: Harvard Health)
According to one survey, the way people view yoga explains why some don't try it in the first place. Sometimes people see yoga as exclusive, instead of accessible and inclusive. In plain terms, yoga is often viewed as an activity for fit people or young women who are already flexible or athletic.
11. 86% of people report a better mood after doing yoga. (Source: Eventbrite)
And perhaps even more incredible is that 43% say they feel very happy after yoga!
12. 67% of people who practice yoga choose to unroll the yoga mat at home. (Source: Eventbrite)
Though the majority of yogis and yoginis prefer yoga at home, the remainder choose to practice (in order) at: gyms, yoga studios, and outdoors, yoga or wellness festivals, and unique venues.
Yoga Statistics and Demographics
13. 35% of Indian Adults practice yoga ever. (Source: Pew research Center)
Though India is the birthplace of yoga, don't make any assumptions about the number of practicing yogis and yoginis. And don't just let the popularity of yoga in the west lead you to the conclusion that India is overflowing with flexible, nimble, yoga pants wearing, daily practicing yogis. Rather, according to a Pew Research Center survey, most Indian adults don't practice yoga. Of those who do practice yoga, 22% do so monthly or less. Even fewer practice yoga daily–somewhere around 7%.
14. yoga among U.S. adults aged 18-44 (17.9%) was more than twice that of adults 65 years and older (6.7%) in 2017. (Source: CDC)
According to the CDC, yoga is practiced among a range of ages, but adults between 18-44 practice a lot more than older adults.
Oh, did you know it's never too late to start practicing yoga or too late become a yoga teacher?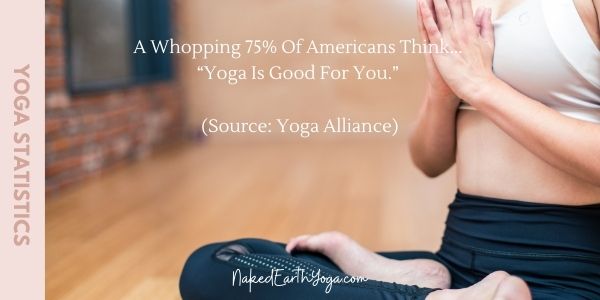 15. A whopping 75% of Americans think "yoga is good for you." (Source: Yoga Alliance)
Yeah, you already knew that, right?
16. according to a 2016 report, 9 out of 10 Americans had heard of yoga, which was up from 7 out of 10 in 2012 (Source: Yoga Alliance)
That number has to be even higher now thanks to COVID-19, don't you think?
17. It's a family affair: 37% of yogi practitioners have kids under the age of 18 who also practice yoga. (Source: Yoga Alliance)
If you're trying to find a yoga niche, yoga business statistics like this one can help make the case for yoga practice areas like Mommy and Me Yoga classes, Yoga for Dads with Kids, Yoga for Tweens, and Yoga for Teens classes.
18. there is moderate evidence supporting the effectiveness of yoga interventions to enhance Elementary school participation. (Source: American Journal of Occupational Therapy).
Based on 3 studies of elementary school second graders, yoga resulted in "significant improvements in social interaction, attention, and on-task academic performance as reported by teachers." Some schools are moving toward offering more classroom yoga or as class electives.
19. Statistics gathered from 2001-2014 show the yoga injury rate has increased Over time, with those 65+ years old at greatest risk (57.9/100,000) compared to 18-44 year olds (11.9/100,000). (Source: NIH)
Yoga injuries happen. And not just in headstand. According to an NIH report, injuries to the trunk (46.6%) and sprains/strains (45%) were the majority of yoga-related injury diagnoses.
20. Research concludes that "yoga is as safe as any other activity. It's not more dangerous than any other form of exercise." (Source: VOX)
According to a researcher in this report, H. Cramer, "Yoga is not 100 percent safe, but nothing is 100 percent safe. However, according to the same researcher, it's not any more dangerous than any other form of exercise, though "beginners should avoid extreme practices such as headstand, lotus position and forceful breathing." 
21. True beginners? 44.8% of Yoga practitioners consider themselves beginners (Source: The Minded Institute)
Among these self-described beginners, 22.9 % are new to yoga completely and 21.9% aren't total newbs, but are returning to practice after time off. Just over 15% of yogis or yoginis consider themselves expert or advanced.
22. Over 74% of yoga teachers are women. (Source: Zippia)
According to one source, 74.2% of all yoga teachers are women.
23. Less than 10% of yoga teachers are Black or African American. (Source: Zippia)
One report notes that the most common ethnicity of yoga teachers is white (77%). That statistic is then followed by Hispanic or Latino at (10%), followed by Black or African American at (5.7%) of yoga teachers.
24. 10% of Yoga Teachers Identify as LGBT. (Source: Zippia)
According to one source, 10% of yoga teachers identify as LGBT.
25. In 2016, there were over 70,000 Registered Yoga Teachers. (Source: Yoga Journal)
It's difficult to know exactly how many yoga teachers are out there in the United States or beyond. That's because not all yoga teachers register as a Registered Yoga Teacher through Yoga Alliance. For example, some yoga teachers specifically choose not to register with Yoga Alliance, and use instead "CYT" (Certified Yoga Teacher) next to their name, instead of RYT (Registered Yoga Teacher).
Plus, there are so many yoga teacher trainings out there now that keeping track of the actual number of teachers is hard to do, if not, impossible.
26. "The prevalence of vegetarianism is more than 6 times higher in yoga users than in the general population." (Source: Elsevier)
Yoga And Relationships
27. Studies show a positive connection between mindfulness practice and healthy relationship skills and relationship quality. (McGill et al.)
28. Partner yoga may help couples struggling with sexual dysfunction. (Source: LUHS)
Yoga Products
29. According to a 2016 Yoga in America Study, 16 billion is spent each year in America on Yoga classes, gear, and equipment, which grew from $10 billion (USD) in 2012 (Source: Yoga Alliance)
The business of yoga is a big deal. And there has to be so much room for more growth. That's especially so if you consider the global tobacco market which was estimated at 932.11 billion (USD) in 2020. https://www.grandviewresearch.com/industry-analysis/tobacco-market.
30. There are over 2,500 meditation apps in the world. (Source: Appinventiv)
That's a lot of interest in meditation and well-being.
31. The yoga mat market is estimated to reach 23.2 billion USD by 2026. (Source: AMR)
What more proof could you possibly need that yogis and yoginis love their yoga mats? According to Applied Market Research, "the yoga mat market size was valued at $13.3 billion in 2018, and is estimated to reach $23.2 billion by 2026."
Now, factor in the increasing popularity of sustainable yoga mats, plus travel mats (since people are dreaming about post-pandemic travel) and voila…the perfect yoga product niche market!
32. The Average Yoga Mat Lasts Anywhere Between 6 months and 2 Years. (Source: Yoga My Old Friend)
Sure, how long a yoga mat lasts is going to depend on a number of variables. For example, how often you use it and practice yoga on it. The yoga mat brand or quality. And also on the type of yoga mat cleaners you use. Some people use the same yoga mat for years. Others get less than a year on a mat.
33. 99% of yoga pants on the market are made for women. (Source: Glamour)
Not convinced that yoga pants are a big deal in the yoga industry? Then check out Instagram and see how there are 5.1 Million posts using the hashtag #yogapants.
Lululemon, Lucy, Alo Yoga, and Athleta know a thing or two about the yoga pants market, too. In fact, Lululemon, the leader in yoga apparel, reported that sales for 2020 reached $4.4 billion, a not-too-shabby 24% rise from 2019.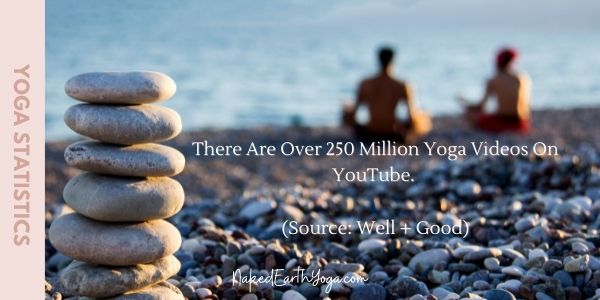 34. There are over 250 Million Yoga Videos on YouTube. (Source: Well + Good)
In 2019, according to the source, there were over 254 million yoga videos on YouTube. Thanks to the Pandemic, that figure has got to be so much larger now, especially with the sky-rocketing number of new yoga teachers and yoga instructors using online teaching platforms. Virtual yoga studios and online videos have helped yoga teachers and yoga businesses survive and thrive.
Yoga Styles
35. Hatha Yoga and Ashtanga Yoga are the two most popular styles of yoga, according to Google search queries (Source: Gym Lion)
Hot yoga and Aerial yoga also make the top 10 list of popular yoga styles.
36. French yogis like Yoga flow (le flux), with apparently 84% choosing to practice fluid yoga like Vinyasa or Ashtanga (Source: Statista)
In 2019, French yogis preferred soft yoga, like Yin, Restorative, or Yoga Nidra, and few had tried Bikram yoga.
37. Australian's choose yoga (especially Generation Y) as their preferred cardio, strength, and flexibility exercise, with over 2 million Australian's participating in yoga in 2017, (Source: Roy Morgan)
According to this report, yoga is most popular among Generation Y (those born between 1976-1990) in Australia.
38. Women who participate in Hatha Yoga may significantly improve their health-related fitness. (Source: NIH)
Following middle-aged women in a 6-month Hatha Yoga based training program, researchers concluded that sedentary women can significantly improve their fitness through yoga practice. Health improvements included, weight loss (an average loss of 1.03 kg), body fat decrease, and increases in isometric strength.  
Yoga Law
39. In 2021, Alabama ditched a 30 year ban on yoga in schools. (Source: NPR)
For nearly 30 years, yoga was banned in Alabama public schools. That changed when Governor Kay Ivey signed a bill to allow yoga in schools as an elective.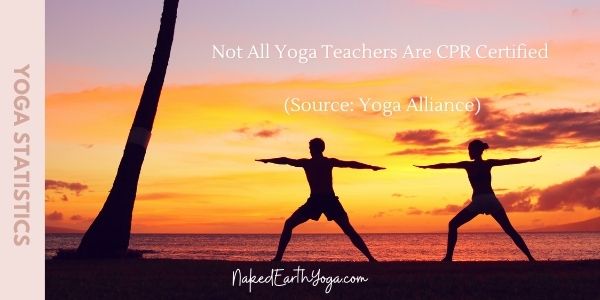 40. Not all Yoga Teachers are CPR Certified (Source: Yoga Alliance)
Yoga Alliance doesn't require its registered teachers to have CPR training, though it mentions suggestion of it. Yoga Alliance does not allow CPR training to count toward "classroom hours, contact hours, or continuing education hours." Whether an individual school requires CPR certification to obtain a teaching certificate depends on the individual school. Accordingly, some yoga teachers may or may not be CPR trained or certified.
LEARN MORE: Why Yoga Teachers Need CPR / AED training.
Yoga Business Statistics
41. The average yoga teacher pay is $31.45/hour, with San Francisco leading the way for yoga teacher salaries. (Source: Indeed)
How do yoga teachers bump up their salaries to the next pay band? Here are 7+ Ways Yoga Teachers Can Make More Money.
42. Yoga in the workplace can support and promote health and wellness. (Source: CDC)
The CDC notes the benefits of workplace physical activity, and notes that yoga is one beneficial activity.
43. Costa Rica is a popular yoga destination. (Source: Taylor's Tracks)
Costa Rica is a popular choice for yoga and yoga retreats. Reasons for this location's popularity among yogis include: welcoming country, nature, environmentalism, and its approach to life.
44. "The average yogi spends $62,640 over their lifetime on classes, workshops, and accessories — or nearly $90 per month." (Source: Eventbrite)
Is your yoga business harnessing this consumer trend? Learn how to grow your yoga business with awesome tips, hacks and resources on the Business of Yoga blog.
45. There are over 14,000 registered domains using the top level ".Yoga" domain. (Source: Namestat)
If you don't have a yoga website or yoga blog with your own domain name, now is the perfect time to launch your own site! Discover how to launch your own site using my step-by-step How to Start a Blog Guide.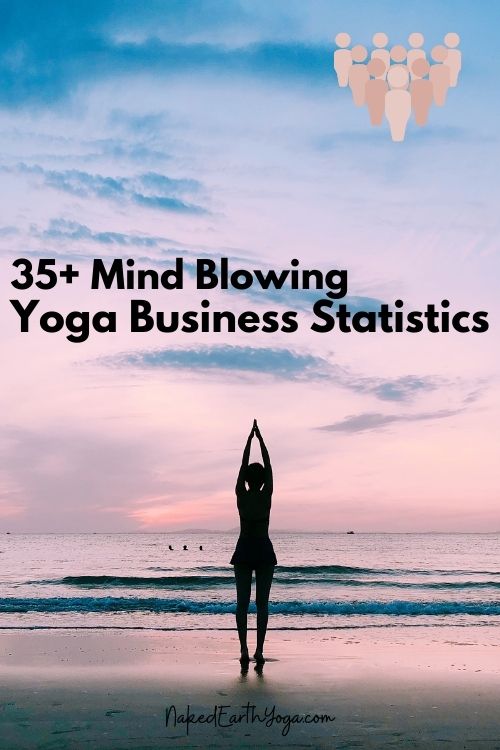 Share The LOVE – Pin It, Tweet It!
Please share the love. Pin this yoga business statistics article. Or tweet it. I truly appreciate it. 😉
Comment. What do you think of these yoga business growth statistics? Drop a comment below.